Book Giveaway #9 – Four Sewing Books from Lark Crafts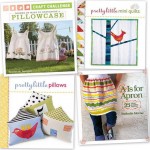 THE PRIZE
One reader will win
1. Craft Challenge: Dozens of Ways to Repurpose a Pillowcase by Suzanne J.E. Tourtillott
2. A is for Apron by Nathalie Mornu
3. Pretty Little Pillows
4. Pretty Little Mini Quilts
MY REVIEWS
Craft Challenge: Dozens of Ways to Repurpose a Pillowcase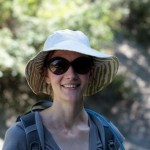 I am in love with repurposing, and this book has so many great easy easy projects. My husband has a closet full of woven shirts that are too small or old and I've been reusing those even more than pillowcases.
I made this hat with one of his old shirts and a small piece of fabric I had, so you don't have to repurpose fabric but it's always a thrill for me if I can.
Some of my other favorite projects include the pillowcase pinafore, superhero cape, and lavender tote. The section on "pillowcase basics" is also fun and helpful with standard pillowcase dimensions, thrift/vintage shopping tips, hand and embroidery stitches, and other essential basics.
All the necessary pattern templates are included in the back of the book and each project has very straight forward and detailed instructions so anyone can make these fun and cute pillowcase projects!
A is for Apron
Nathalie Mornu has done does a great job adapting plain apron patterns and adding different shapes and textures to make your grandma's apron fresh and fun. She uses scallops, pleats, gathers, decorative trim, and more to really transform a basic apron into something much more fashionable.
Right now I'm working on the apron pictured in the bottom center called Twirl, Girl! The instructions are great and easy to follow and it's just a matter of getting it finished. More details on that later this week…
One can never have too many aprons, and A is For Apron has plenty of patterns to keep you stocked up for a life time!
Pretty Little Mini Quilts
Pretty Little Mini Quilts is a great book with 31 mini quilt patterns to keep you quilting year round. The quilts are…mini!, so perfect for crafters with short attention spans (like me). I love quilting but I often get tired of working on the same project forEVER and these mini quilts are fun AND quick to make.
The book starts out with a thorough explanation of all the basic skills, tools, and techniques you'll need to complete the projects in the book along with some ideas for fun embellishments using ribbons, rickrack, trims, buttons, eyelets, and snaps. And of course instructions on binding including lots of different ways to do corners, turning and hanging a quilt, machine quilting, and tying.
The actual patterns include lots of small steps and diagrams to make sure you're on the right track.
This books is full of fabulous projects – my favorite is probably the Spinning in Orbit in the bottom right picture, but there are so many to choose from!
Pretty Little Pillows
Another title in Lark's "Pretty Little…" series is Pretty Little Pillows, and this book makes me wish I had way more couches to smother with pillows. I took pictures of my favorites above and I plan to make them all eventually.
Just like Pretty Little Mini Quilts, this book gives you everything you need to know about making pillows from start to finish and includes lots of different kinds of covers and techniques. I didn't know there were so many ways to make pillows!
The patterns are all included in the back of the book and I particularly love the Marvelous Muff "pillow"that would be so perfect for a costume party or a fancy ball. The Cathedral Window and Twist-n-Tie pillows are favorites as well.
Thanks so much to Lark Books for sponsoring this giveaway – happy crafting!
GIVEAWAY RULES
Visit LarkCrafts .com
Make a comment on this post telling me why you'd like to win before midnight Sunday, October 10.
A winner will be selected and announced at the top of this post on Monday.
Only one comment per person unless you earn extra entries.
Giveaway open only to residents of the continental United States…sorry.
Winners must email me to claim their prize within 5 days.
EARN EXTRA ENTRIES
You may earn 1 extra entry each for doing the following (make a separate comment for each thing you do):
Facebook about the contest with a link back here
Subscribe to my feed
Sign up for my newsletter
Add my button to your sidebar
Comment on any non-contest post (must contribute to the conversation)
{These products were provided to Vanilla Joy for review purposes.}