I've been super busy with my new Cricut, crafting every spare moment…I need to win that Cricut Scrapbooking Cruise because THEN I could focus and get some real work done!
Honestly, sometimes scrapbooking is just such an intimidating hobby that I sew instead. Fortunately, I can use my Cricut for sewing! I have been formulating some exciting projects in my little mind for MONTHS but I needed that beautiful and humongous Expressions machine to make my dreams come true. Now that I have it, I'm getting some adorable stuff up on my baby's walls.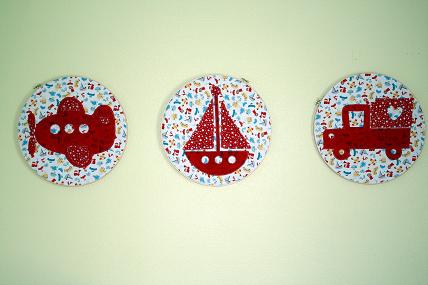 This is my first project which will be followed up by another similar but even more adorable one on the opposite wall. More on that when I'm finished.
For this project, I used 3 – 14″ embroidery hoops as the frames. (Embroidery hoops come in 4, 6, 8, 10, 12, and 14 inch sizes.) After finding the perfect background fabric at a local quilting shop, I was ready to get to work with the Cricut.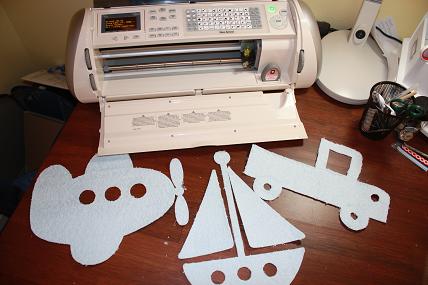 Using the New Arrival cartridge (one of my favorites!) and the "Fit to Page" feature, I cut out each of the 3 designs as big as possible on a 12×12 cutting mat. (You'll notice that the fabric in this picture and the fabric in the finished project is different – the blue didn't match the background fabric exactly and didn't stand out enough, so I started all over with red, and I'm so glad I did because I love how it turned out.)
And although the Cricut does cut fabric, I actually cut each piece out of paper to conserve my Heat'N'Bond. Here's the whole process:
cut the design out of cardstock
on the paper backing of the Heat'N'Bond, trace loosely around your design and cut out
iron Heat'N'Bond to the back side of your fabric (follow package instructions)
trace design on the paper side of the Heat'N'Bond
cut out with paper and not fabric scissors
cut background fabric a few inches larger than the embroidery hoop
peel paper backing off design
iron design to background fabric
edge stitch around the whole thing with contrasting thread
place in the embroidery hoop
trim excess fabric from around the edges
I wish I had taken more pictures of the whole process, but I was trying to get this done before my baby woke up! I have another set to do for the other wall, and I'll take more pictures then.
I love how this turned out, and I am just going crazy with all the awesome applique patterns I can now create using my Expressions machine. I have 2 other projects to share tomorrow and Thursday, so stick around!
{photos taken with a Canon Rebel XSi}