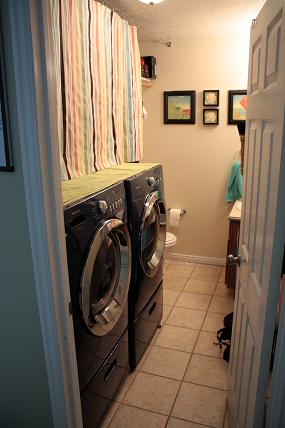 After getting my new Frigidaire front loaders in July, my laundry room needed a whole new system for storage. We took down the cabinet that was on the wall and put up regular shelves to give us more storage space, but it didn't look great. I wanted to hang a shower curtain to give some color to the room and to hide the organized mess so I researched some different options on how to hang a curtain from the ceiling.
IKEA has some great hardware options, and I ended up using the Dignitet curtain wire so I could run my shower curtain the whole length of the room.
I love how it turned out! A shower or regular curtain hung from the ceiling can work in all different kinds of rooms to divide the space or section of an area. I'm thinking another room in my house might need this same treatment…
I've also had need for some spray starch recipe and buying it at the store can be heart-attack inducing, so here's a recipe from About.com:
Spray Starch
1 heaping T. corn starch
2 pints cold water
Mix the two together in a bowl, pour into a spray bottle, and starch away!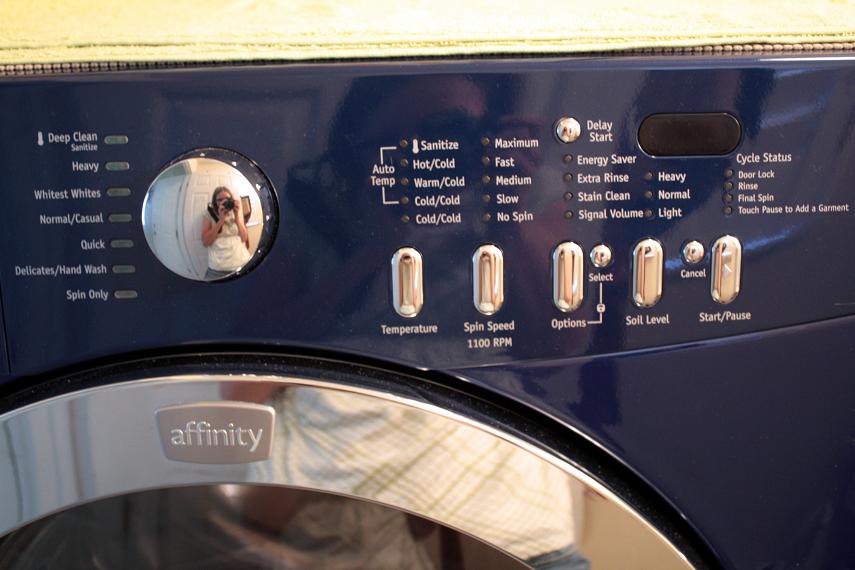 And speaking of my new front loaders, I can't help throwing in another newly discovered favorite thing. I'm really thrilled with all the preset options of this Affinity washing machine. I don't even think anymore, I just spin the wheel and push start.
There are 7 different preset cycle settings
Deep clean (sanitize)
Heavy
Whitest whites
Normal/Casual
Quick
Delicates/Hand wash
Spin only
You can select a cycle and then change just one or two things about that cycle like the water temperature or spin speed. And since it's more gadgety, my husband intuitively understands how it works as well.
I am throwing everything we have in this washer and saving myself tons of hand washing and trips to the laundromat for my blankets and other large items.
I love my new laundry room with my hidden storage, colorful curtain, and Mr. & Mrs. Affinity!
I wrote this review while participating in a Test Drive Campaign by Mom Central on behalf of Frigidaire and received a Frigidaire Washer and Dryer to facilitate my review.