My boys' LOVE toys that do things. Give them buttons to push, wheels to turn, and pieces to move and they are completely absorbed.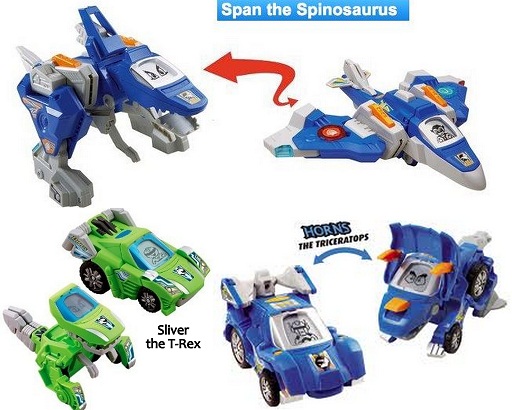 Naturally, the new Switch & Go Dinos™ from
VTech
are getting lots of attention — like hours each day. I love more than anything finding a toy that my boys will play with for days and weeks at a time. That is the sign of a great toy – it's engaging, interactive, and so much fun.
These kinds of toys are the ultimate for my boys. The Switch & Go Dinos are designed for kids 3-8 years old which means all the moving parts are large, easy to move, and sturdy.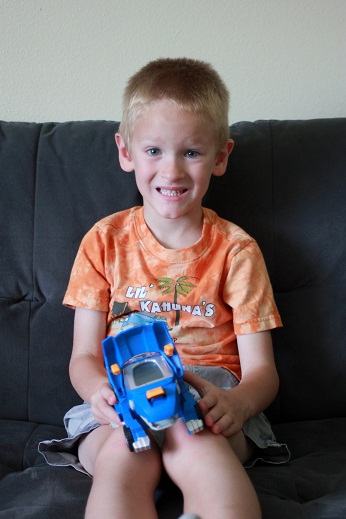 These toys do stuff. It can be a car or a dinosaur and getting from one to the other is simple but does take quite a few steps. It's perfect because it's easy to do, but the fun isn't over too soon.
Switch & Go Dinos are absolutely full of kid-loving technology. Each Dino has an LCD screen that doubles as either the car's windshield OR the dinosaur's eyes. There are fun and customizable animations AND great sound effects. I hear my boys repeating the things their Switch & Go Dinos say in auto mode like, "No pain, no gain!" Or "Put the pedal to the metal!" In dinosaur mode, action buttons play facts about each dinosaur so learning is playing!
My boys are both so amazed at the way the toy can be both a car and a dinosaur because the car looks just like a car and the dinosaur looks just like a dinosaur. It's kind of magical and my kids love magic.
We got Sliver, Horns, and Span to play with, but there are seven durable, unique, and collectible Switch & Go Dinos, and they start at just $15.99 each. I'm thinking we gotta collect them all and I'll be getting my
Christmas
shopping done early this year…
And this post wouldn't be complete without a CONTEST! Here's the scoop:
VTech
is challenging kids to transform their imagination through the Show & Tell with Switch & Go Contest.
How to participate:
Upload a 15-30 second video to the
VTech
Facebook page of your child's home-made Dino creation. In the video, your child can show VTech their new Dino by drawing, building or customizing their existing Switch & Go Dino. Don't forget to tell VTech about the cool things your Dino does!
Show – What does your child's Switch & Go Dino look like?
Let your child choose 1 of 3 ways to show-off their home-made Dino creation and record it on video:
Draw: They can use markers, crayons, paint or pen to sketch your creation on paper
Build: They can use foil, paper, cardboard, or any non-branded household items to build your Dino
Customize: They can update their own
VTech
Switch & Go Dino with accessories and fun props to give them a new image!
Tell – What makes your child's Dino large and in charge?
Tell a story about it, name it, and share its roaring sound effects.
Winners
From
October 8
through
October 19
cast your vote for the coolest, most creative and fiercest video.
One grand-prize winner will get a kids lifetime supply of educational toys from
VTech
. And your video will air on a VTech commercial on Nickelodeon, which you can watch at your very own viewing party with your friends and family. And VTech will also transform your living room into the ultimate Dino den.
Participating is easy and fun so get a Switch & Go Dino and create your video
today
! Enter the contest by clicking
here
!
To read other bloggers' reviews and see their videos, visit the
VTech brand page
on BlogHer.com!