Next month I'll be experimenting with cast iron cookware from CSN Stores and I'll be sharing my results. CSN Stores has over 200 online stores with everything from dutch ovens to LED lighting, and I'm excited to see how cast iron affects my cooking…but more on that later!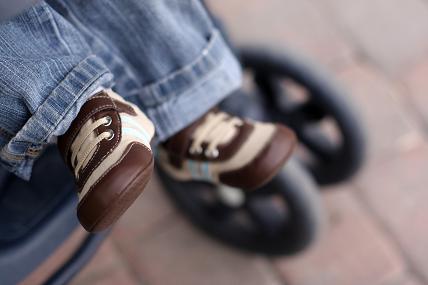 For today, I'm realizing I like shopping for everything my kids need except shoes. I just have a hard time finding shoes I like, especially for babies, because they're too heavy or a weird shape or not cute.
But I really like Robeez because their shoes are none of the things I hate about baby shoe shopping! They're good modern baby shoes which means they're shaped to fit a baby's feet, really light weight, and breathe and don't scratch or rub. Gus doesn't love wearing most shoes (he's got these fat little feet and if his shoes are too heavy or clunky he falls constantly) but he likes Robeez because they fit more like thick socks or slippers.
And I love that the styles look just like adult shoes, just miniature. I love dressing him up like a little man!
What are your favorite kind of baby shoes???
{This product was provided to Vanilla Joy for review purposes.}