I don't generally use punches in my paper crafting because I don't often find a design I like well enough to buy. BUT. Check out these three Creative Memories paper punches/shape makers – aren't they great?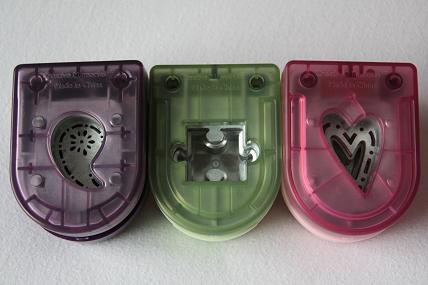 The Sweet Heart Maker, on the right, is a relatively new shape maker, or at least I haven't seen it until recently, and I love it, particularly this month when we celebrate Valentine's Day! But hearts are appropriate for any occasion, especially when scrapbooking pages of your kids or sending a card to a friend or family member. I love how intricate both the heart and paisley punches are…so feminine and beautiful – punches I can actually use!
And since I am the mother of one, soon to be two boys, the new puzzle punch is fantastic as well. I have big plans for that one, especially since my son LOVES puzzles and my husband just finished his largest puzzle ever of 5000 pieces. Crazy, I know… Imagine the possibilities of borders, frames, random accents, and more with that puzzle punch…
This week I've been using that sweet heart maker a ton – here are two little cards I made with it: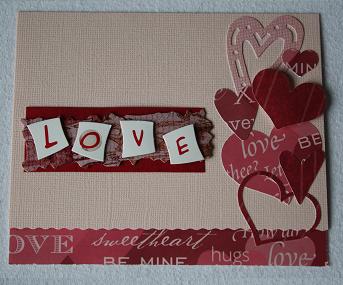 (Tools: Purple Cows Ultimate Trimmer, Cricut (various cartridges), Creative Memories Sweet Heart Maker)
Besides the Sweet Heart Maker, I used the Purple Cows Ultimate Trimmer to for the scalloped edge along the bottom. The Ultimate Trimmer is a great cutting tool – it has 11 different blades, all housed within the trimmer itself so storage is convenient and efficient. This is a great rotary cutter.
(Tools: Creative Memories Sweet Heart Maker & Corner Maker, Crop-A-Dile Big Bite II)
I love how this punch adds something special to my simple style. It's a familiar shape with a fun twist – I love how Creative Memories does that with many of their shape makers and other cropping tools.
Every paper crafter needs a good heart shaped punch – I'd go with this one!
{Photos taken with a Canon Rebel XSi}