When we have a big purchase to make, I usually go with what my Dad thinks or just get whatever my sister got – I assume they did the research for me! That's probably not the best way to choose a brand or product, but until I heard about Buzzillions, I didn't know what else to do.
Exactly what is Buzzillions? Here's what they have to say:
Buzzillions is your premier hub for product reviews. We're not sure how many a buzzillion is, but it sounds like a lot – and that's our goal, a lot of useful reviews to help you make an informed decision. These reviews come from companies like Toys R Us®, Staples® and Zappos®, just to name a few. They share their customer reviews with us and we collect and display them here at Buzzillions. We collect thousands of customer reviews a day from across 2,300 websites. That means you get to see a huge amount of reviews on a wide range of products, from GPS units to baby strollers, hiking boots to moisturizers.
Checking Buzzillions is kind of like asking my sister and Dad what they think, only on Buzzillions, I can read unbiased product reviews about all different brands and price points from actual people who have actually used the items in question.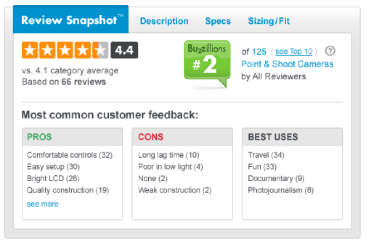 One of my favorite features about Buzzillions is what they call their "Review Snapshot," which tells you the average rating for the product. I like that they tell you how many people have reviewed it right up front – that's the most important thing to me, seeing that 283 people have given this item an average of 4 out of 5 stars. I think I can trust the opinions of 283 people! I also like that they list items in order of popularity so I get to see the best stuff first.
In their toy reviews section, you can choose to see reviews from first time parents, parents of 2 or more children, grandparents, or working parents. These options allow me to view the opinions of people in my particular parenting situation, which makes a difference. Each of their categories has options like this – you can view the opinions of people who are similar to you.
And lastly, I like how they have a review snapshot right on their listing page. You can see all the information about a certain product just by hovering over the image.
For me, Buzzillions is a place where I can quickly and easily compare brands and products without having to do any research myself. I get to shop around without having to having to shop around!
Check out Buzzillions and see what you think.

________________________________________________
GIVEAWAY GUIDELINES

Buzzillions is trying to find out from you how they could improve their site, and they're offering 2 people $25 cash via PayPal each for this simple information. To enter:
Visit www.buzzillions.com and spend some time getting to know the site.
Leave a comment before midnight Wednesday, February 4th including the following information:
What you like about the site
What you don't like the site
How you would improve the site
Whether or not you bookmarked it
A random winner will be selected and announced in a new post Thursday morning.
Only one comment per person, please.
Giveaway open only to residents of the continental United States…sorry.
EARN EXTRA ENTRIES
You may earn extra entries for doing any of the following things:
Subscribe to my feed
Sign up for my newsletter
Blog about the contest with a link back here and to Buzzillions
Add my button to your sidebar
Each of these things will get you 1 additional entry. To get credit for extra entries, email your total number of extra entries to contest@vanillajoy.com. Good luck!