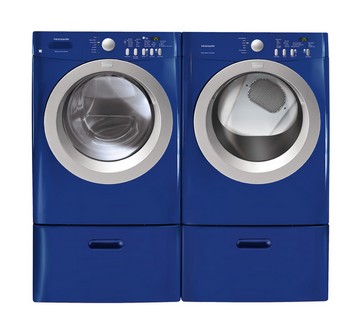 Meet Mr. and Mrs. Frigidaire Affinity. Since they arrived on Tuesday, we've been spending quality time getting to know and appreciate one another and honestly, I cannot think of 2 friends that could make my life easier than these babies!
Last November I was chosen to be a Frigidaire Test Drive Mom, and THANK YOU Frigidaire a million times for that. I've been awaiting the arrival of the new electric blue front loading washer/dryer set since then and I'm so glad the anticipation is over and they have come to be mine for ever and ever!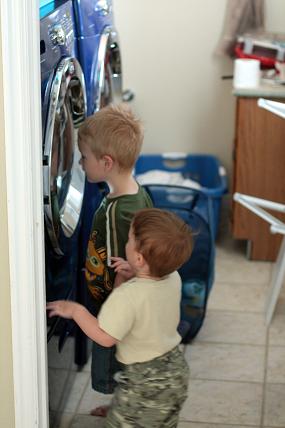 This is a pretty pathetic accurate representation of what we've been up to this week at our house  – washing everything in sight just to watch it tumble! My boys love them almost as much as I do! And seriously, I can now wash at home so many things I took to the laundromat before – quilts/blankets, hand washables, bras, the list goes on and on.
My new Frigidaire washer has been put to the test this week and it has performed so nicely by being quiet and not complaining with any loud thunking or other annoying washer noises. They're both so quiet I cannot hear either appliance running unless I'm in the same room. That's heaven.
Besides the noise level, the other thing I noticed in my first week getting acquainted with Mr. and Mrs. Affinity is that my dark loads come out completely rinsed and clean looking. With my top loading washer, the detergent NEVER got completely rinsed out and I was constantly having to rewash or rinse a handful of items.
I am so looking forward to doing laundry with my Frigidaire appliances and sharing the fabulous results. Stay tuned for some great laundry tips and reasons to love Frigidaire Affinity!
"I wrote this review while participating in a Test Drive Campaign by Mom Central on behalf of Frigidaire and received a Frigidaire Washer and Dryer to facilitate my review."