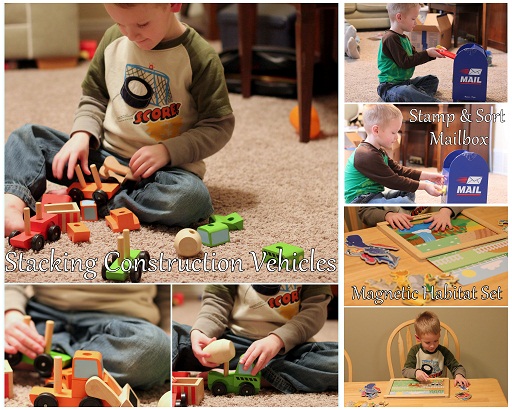 I did a giveaway of these toys before I really had a chance to review them, and in the few weeks that we've had them, my boys have played with little else.
The stacking construction vehicles are the number one favorite – the set comes with three cars (a cement truck, dump truck, and pickup truck) and each is separated into 4 wooden puzzle pieces.  For moms, there's a picture of how it goes together on the bottom.
My boys play with these all day long, driving them off the stairs and couches and watch them separate mid-air and crash to the floor. It kind of drives me crazy but…they love it.
The stamp and sort mailbox has been another great toy that we have to work hard at taking turns with. The mailbox comes with a large yellow wooden key and 6 letters in 3 different sizes. Each letter gets a stamp velcroed to it's upper right corner, and there are three different sized slots for each letter. So it's a puzzle too, and my boys love puzzles!
The magnetic habitat set is great for church and we've taken it there almost every week. It's quiet and with 3 different scenes and 3 sets of animals, there's plenty of entertainment for an hour.
Melissa & Doug toys get lots of love at our house!
{Vanilla Joy received these products for review purposes.}