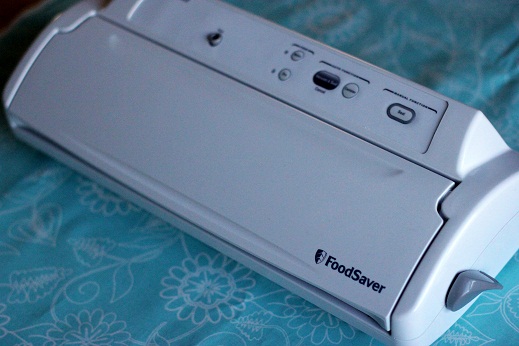 I have been wanting a FoodSaver for SO LONG, particularly for the jar sealer attachment capabilities. I chose the FoodSaver V2240 because it's a basic model (I don't need all the bells and whistles) and because it had the attachment port. It also has the following handy features:
Vacuum sealer with flat touchpad control panel keeps food fresh longer
Hands-free operation; easy-lock latch
2 speed settings; 2 sealing levels; canister mode; CrushFree Instant Seal
It's compact, stores easily, and is handy to get out when I need it.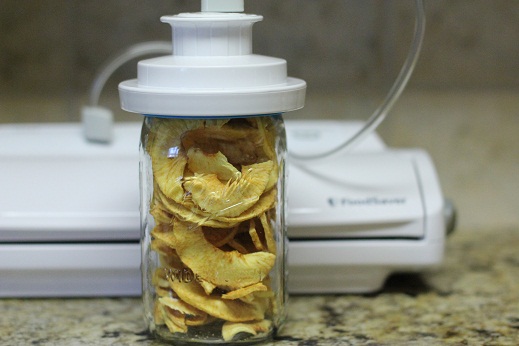 The canister sealing feature is SO EASY to use – plug the hose in, attach to the jar, and press the canister button. Depending on how large the jar is, the sealer takes just a few seconds to suck the air out and preserve what is inside. The seal is tight and you can lift up even a heavy jar by the lid.
I use the FoodSaver particularly to seal up fruit I've dried with my Excalibur Dehydrator. I have dried apples and tomatoes here, and they keep fresher and last longer in a sealed jar than in any other method of storage.
I love the jar sealer attachment and think that a FoodSaver is worth it just for that because all the storage supplies are endlessly reusable. I save my old canning lids to reuse with the jar sealer attachment. It feels so good to have a use for those lids – I hated throwing them away!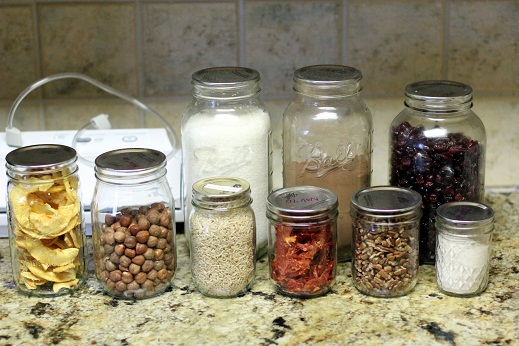 I seal up anything that we don't use on a regular basis. Here I have dried applies, hazelnuts, barley, dried tomatoes, walnuts, whole wheat pastry flower, coconut, cocoa, and cranberries. I buy 1/2 gallon Mason jars to store things we use a lot of like cranberries, which we eat with our steel cut oatmeal EVERY MORNING. I have one jar that we 're using and another full one in the basement that is sealed up and ready to be used when the other is gone.
I used to lose so much money on bulk food items like these that I didn't know how to store. I'd buy some to use for a specific recipe and then the rest would sit in my cupboard in a plastic baggie and go bad. Now I can seal everything up and know it is properly stored for at least a year.
My next Jar Sealing project is Meals-in-a-Jar. I bought a book about using dehydrated and dried foods to make ahead meals that are quick and easy to prepare on a busy night. You throw all the ingredients into a jar (or sometimes 2), slap the recipe on the front, and seal it up to use on a busy (or lazy) night. More on that next week…
Thanks to FoodSaver for sponsoring this review!
{This product was provided to Vanilla Joy for review purposes.}