Other Kits:
Today's kit features another great product from Alex Toys plus a few others from our stash…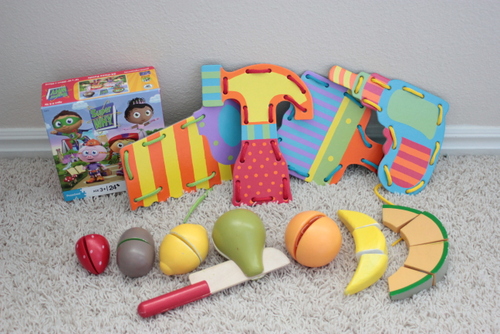 1. My First Lacing: Tools (Alex Toys)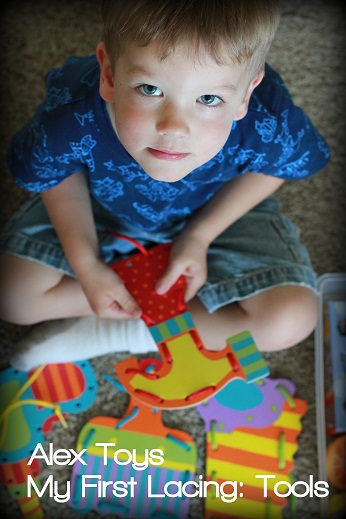 We have several sets of lacing cards, and this one is a favorite – each tool is brightly colored and very sturdy. Some of our past lacing cards have gotten easily bent and ruined, but these have held up nicely. The set comes with 4 lacing cards and 4 strings, another great feature! Having a string for each card is perfect.
Alex Toys has a handful of lacing cards with different themes: farm, fashion, and tools.
SKILLS: fine motor, color recognition, color matching
2. Fruit Cutting Game
This is another favorite toy from our stash that wasn't getting a lot of play time, so we put it away in a Quiet Time kit and it is now a favorite again. Everybody (including adults) love the satisfying THWACK the knife makes when it cuts through these heavy wooden fruit pieces.
3. Puzzle
This is another thrift store puzzle – I put it together really quick in the aisle to make sure no pieces were missing. It's a 24 piece Super Why, one of my kids' favorite PBS shows. You can never have too many puzzles so hit the thrift stores and yard sales!