Other Kits: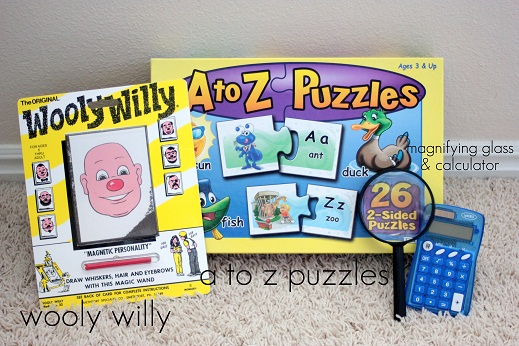 1. Wooly Willy (Patch Products)
You remember this toy!
Wooly Willy is a classic toy – simple but so much fun for kids. The little red magnet stick pulls the magnetic fibers to paint some features on that face! Replicate the samples to either side or come up with your own silly face!
Click here for a fun Wooly Willy video and another fun video!
SKILLS: creativity, dexterity
2. A to Z Puzzles (Patch Products)
This is one of my favorite activities of them all – the box includes 26 2-sided puzzles. The top side of each puzzle has the upper and lower case version of the letter and a word that begins with that letter matched to a picture of an object that begins with that letter. The back side matches upper and lower case letters.
Each puzzle is slightly different so only the correct pieces will fit together making success much more attainable for young children.
Having 26 different mini puzzles in the same box is so great – it takes quite a bit of time to put them all together and they are all separate and distinct so a child can really visualize the differences and begin to associate alphabet letters with objects that begin with that letter.
The pieces are very sturdy and glossy so they'll stay nice and clean for a long time.
SKILLS: letter recognition, pre-reading, dexterity, matching
3. Magnifying glass and calculator
Just for fun! These two items are also favorites – the magnifying glass is a great exploring tool and the calculator is just for pushing buttons…