Other Kits:
So far our Quiet Time Kits are really calming down our afternoons, and not a moment too soon. Whew!
Here's kit #4: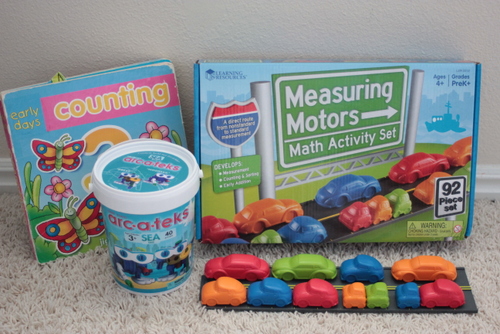 1. Counting Puzzle Book
My boys got this for Christmas from Grandma & Grandpa a few years ago. I think they found it on Amazon, and my boys have loved it to death. Literally. We used to keep it in our church bag but it got too beat up. Now it stays home in a Quiet Time Kit where it will be safe but still enjoyed.
2. Arc-a-Teks
This is a FANTASTIC building toy with some uniquely shaped pieces and methods of connecting them together. Each set comes with some little trading cards with pictures of some of the creatures you can build out of the set AND a little booklet of instructions on how to build them. There are plenty of things to build from your own imagination as well, of course…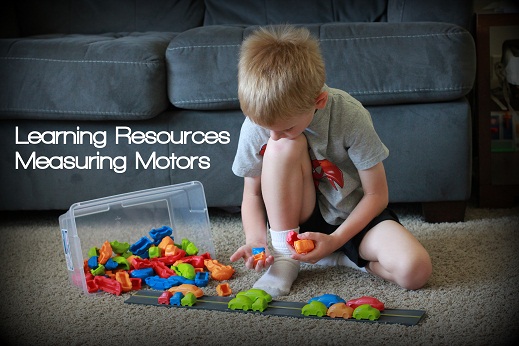 3. Measuring Motors Math Activity Set (Learning Resources)
This is our first math learning activity/game, and my boys love it. They love the different sizes and colors of the cars and how magical it is how the smaller ones fit right next to the bigger ones.
The set includes 88 cars in four different colors and three sizes (1″ – 3″) and 4 interlocking road tracks for driving, measuring, counting, etc. There's also a little activity guide for more ideas.
This is an activity we use during our learning time in addition to our Quiet Time – we talk about some really basic fractions and parts and how smaller things add up to bigger ones. It's a great activity to start learning math!
SKILLS: counting, sorting, patterning, number stories, problem solving, critical-thinking
Learning Resources has hundreds of fantastic educational toys, games, and activities. Find out more from Learning Resources on Facebook, Twitter, YouTube, and Pinterest!