Here's how me and my passwords work – I either have all of them the same which means I'm just asking to get hacked or I set them all different and can't remember a single one.
It's impossible.
The internet is supposed to make my life easier and instead it makes me remember more bizarre combinations of numbers, capital letters, and symbols than my brain is capable of.
Enter Norton Identity Safe, the most brilliant (and secure) password management system. We trust Norton for anti-virus software, right?!? Well now we trust them with our magic words.
After downloading Identity Safe (which I highly recommend you do right now), this is the brief introduction that explains what Identity Safe is all about:
remembering passwords
keeping secure information secure
protecting you from hackers
helping you be social AND safe
avoiding bad sites
You create a vault, the place where all your secure information is stored. Aptly named, right?
Carefully choose a password that you must never forget! because there will be no reminders if you do forget. You get a hint, so make it a good one.
After installing and registering, you'll have a completely secure place to store every login you ever use, an identity card to help you quickly and automatically fill out forms, and credit card/payment information.
You'll download the Norton toolbar so every time you log into a new website, the tool bar will alert you that the login has been saved to your vault!
The toolbar also has a little home button which will take you instantly to your vault. You can access all secure websites through your vault, just click the thumbnail and you will be instantly logged in and ready to shop/read/pin/tweet/blog…you get the idea.
No more mnemonic devices! Those are probably good for our brains, so maybe keep exercising that memory some other way. Like which child's turn it is to do the dishes…
Download Norton Identity Safe right now and never forget another password or get phished again!
Sweepstakes: Android Tablet with Norton Mobile Security and Identity Safe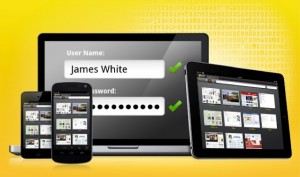 Share a story about a time you forgot, or lost your password, in the comments below. Each response will garner automatic entry into a sweepstakes to win one of five Android Tables (Samsung Galaxy Tab 2 – 10.1-Inch, Wi-Fi) with Norton Mobile Security and Identity Safe installed on the device!
Visit BlogHer.com to find other reviews of Norton Identity Safe.
Sweepstakes Rules:
No duplicate comments.
You may receive (2) total entries by selecting from the following entry methods:
a) Leave a comment in response to the sweepstakes prompt on this post
b) Tweet about this promotion and leave the URL to that tweet in a comment on this post
c) Blog about this promotion and leave the URL to that post in a comment on this post
d) For those with no Twitter or blog, read the official rules to learn about an alternate form of entry.
This giveaway is open to US Residents age 18 or older. Winners will be selected via random draw from all participating blogs, and will be notified by e-mail. You have 72 hours to get back to me, otherwise a new winner will be selected.
The Official Rules are available here.
This sweepstakes runs from 6/21 – 7/31.