THE PRIZE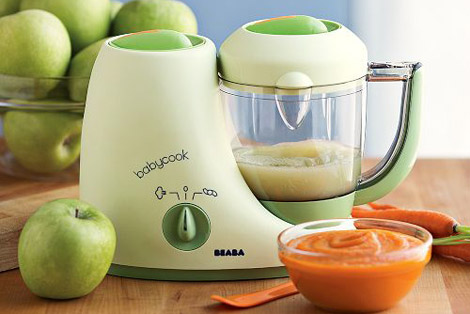 One Vanilla Joy reader will win a Beaba Babycook!
MY REVIEW
I am SOOO excited about this product because I've been wanting to make my own baby food instead of buying store bought!
The Beaba Babycook makes doing your own baby food so easy and it saves lots of time and electricity. Besides cooking the food, the Babycook also blends, reheats, and defrosts. Clean up is super easy and the results are fabulous!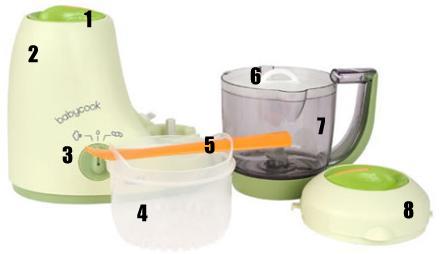 Figuring out how it all went together was the hardest part, and having 2 sick children crying for my attention didn't help…But after they went to bed and I got to play with my new toy in peace, I figured it out and made some wonderful yams for Gus! Pictures always help me, so here's what all the parts and pieces are:
Steam heating compartment
Babycook Base
Food processor controls (steam and blend)
Cooking, reheating, and defrosting basket
Spatula
Mixing lid
Blending bowl with removable food processor blades
Bowl lid
So here's a quick explanation of the simple, fast, fun, and easy process for making your own Babycook baby food!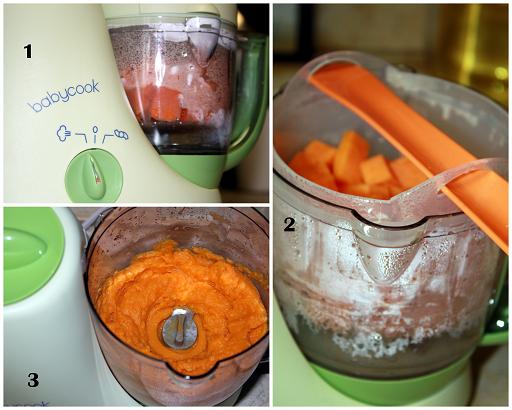 Fill blending bowl (#7) up to water line 3 (correct water levels are in the instruction booklet.) Pour water from the blending bowl into the steam heating compartment (#1). Dice your food (we did yams) and put in the cooking basket (#4). Put cooking basket in blending bowl and attach the bowl lid (#8). Attach blending bowl to the base (#2). Turn on to steam.
When your food is finished steaming, the light on the control button will go off. Remove the bowl lid and insert spatula (#5) into the slots of the cooking basket. Everything will be really hot, so be careful. Dump food into the blending bowl.
Insert mixing lid ( #6), attach bowl lid, and blend until smooth and creamy.
Then I portioned it out into an ice cube tray and stuck in the freezer.
The whole process took 20 minutes, and I was only involved for about 5 of that. One medium sized yam filled up the cooking basket about 3/4 of the way and made 8 cubes.
A recipe booklet also comes with the Babycook and I can't wait to try the tomato and green bean soup and the orange and apple compote!
Thanks, Beaba!
GIVEAWAY RULES

Visit Beaba.com
Come back here and tell me why you should win before midnight Wednesday, December 2.
A winner will be selected and announced at the top of this post on Thursday.
Only one comment per person unless you earn extra entries.
Giveaway open only to residents of the continental United States…sorry.
Winners must email me to claim their prize within 5 days.
EARN EXTRA ENTRIES
You may earn up to 25 entries by blogging about this contest and including certain links – click here to read more about earning these entries.
You may earn 1 extra entry each for doing the following (make a separate comment for each thing you do):
Follow me on Twitter
Tweet about this contest with link back here (copy and paste http://www.vanillajoy.com right into the text box)
Facebook about the contest
Subscribe to my feed
Sign up for my newsletter
Add my button to your sidebar
Comment on any non-contest post (must contribute to the conversation)
GOOD LUCK and THANKS!
{This product was provided to Vanilla for review purposes.}