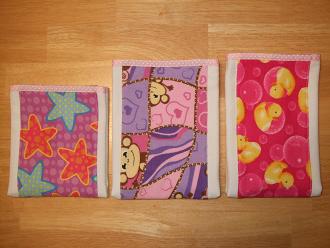 My friend is having a baby and so I whipped some of these burp cloths up really quick for her. I used scrap fabric from my humanitarian quilts. I've been waiting for just the right project to use my scraps, and this is a great way to keep my fabric box from overflowing.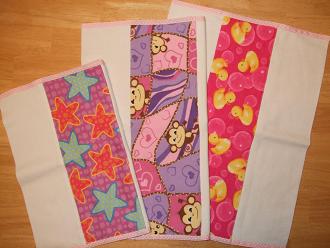 Instead of buying pre-made cloth diapers from the store, I bought some diaper cloth from Joann. Making them completely from scratch does take a little more time but is less expensive. Sometimes I feel in the mood to do things the hard way – it takes longer and the joy is in the doing for me, not the being done. Also, I wanted to be able to make the burp cloths different sizes. If I knew what the baby's name was going to be, I would do a monogram.
I've seen other handmade burp cloths that just look too nice to use. These are great because they are cute and decorative but not so fancy that you can't bear to have them spit upon – they are burp cloths after all.
If you like these and would be interested in learning how to make them, let me know by signing up below to receive updates on tutorials.  And leave a comment also! Maybe I'll even do a giveaway soon…that would be fun!