Blueberry Bundt Cake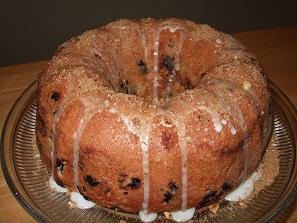 Batter
3/4 c. butter
1 1/2 c. brown sugar
3 eggs
1 1/2 c. sour cream
1 1/2 t. vanilla
3 c. flour
3/4 t. baking soda
1/2 t. salt
1 1/2 c. blueberries
Filling
1/2 c. chopped nuts
1/2 c. brown sugar
1 1/4 t. cinnamon
Glaze
1/2 c. powdered sugar
1 1/2 T. lemon juice
Instructions
1.  Mix first three ingredients, cream, add rest of ingredients.
2.  Grease and flour a fluted bundt pan.
3.  Pour half the batter into the pan, pour all but 2 T. of filling on top of batter, pour rest of batter in.
4.  Bake for 45-50 minutes at 350 degrees.
5.  Once pan has cooled completely, remove cake from pan.  Drizzle glaze over top of cake.  Sprinkle rest of filling on top of glaze.
[recipe from my sister, Keri Garcia]