Top Secret Cinnabon Cinnamon Rolls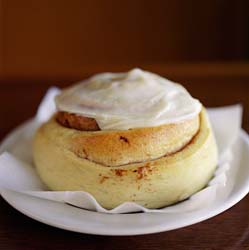 Rolls
2 T yeast
1 c warm milk
½ c sugar
1/3 c oleo, melted
1 t salt
2 eggs
4 c flour
Filling
1 c brown sugar
2 ½ T cinnamon
1/3 c oleo, melted
nuts, raisins
Icing
1 stick oleo, soft
2 oz cream cheese
1 ½ c powdered sugar
½ t vanilla
1.    For rolls, dissolve yeast in warm milk in large bowl.
2.    Add sugar, oleo, salt, eggs, and flour and mix well.
3.    Knead dough into a large ball.  Cover and let rise about 1 hour.
4.    Roll out on floured surface to about 21×16 and about ¼ inch thick.
5.    Preheat oven to 400.
6.    For filling, combine cinnamon and brown sugar, spread oleo over surface and sprinkle with cinnamon mixture.
7.    Roll dough from 21 inch side.
8.    Cut into 1 ¾ inch slices and place in a lightly greased pan.  Bake for 10 minutes or until lightly brown.
9.    While rolls bake, combine icing ingredients and beat until fluffy.
10.    When rolls slightly cool, coat generously with icing.
Makes 12
[photo from dandelionmama.wordpress.com]