Today my good friend and emerging author, Adrienne Monson, is here to talk a little about herself and her new book. Here we go!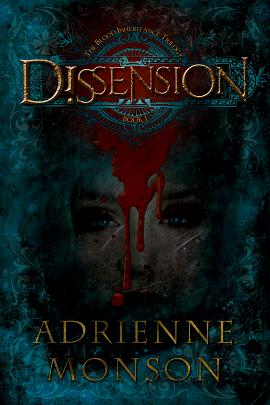 What is the name of your book and if you had to sum it up in 30 or less words, what would you say?
It's Dissension, book 1 of the Blood Inheritance Trilogy. Vampires and Immortals war with each other, both hoping to find the prophecy child first. Vampire Leisha still loves her estranged husband, an immortal who's sworn to kill all vampires.
Do you have plans for a new book? Is this book part of a series?
I've just finished writing book 2, Defiance, and will start writing the third and final book, Deliverance, next week. After that, I already have plans for another work in progress.
Is there an Author that you would really like to meet?
Many! I'd love to sit with Kim Harrison or Karen Marie Moning, just to name a couple. They write in my genre and I think they're brilliant storytellers!
Do you prefer ebooks, paperbacks or hardcover?
Paperbacks. However, since ebooks are less expensive, I have a lot of those, too.
Is there a particular movie that you preferred over the book version?
I haven't seen one yet, but I predict that I might like Beautiful Creatures in movie version better than in book version. The book was good, but I felt some parts were really drawn out. So I think the movie will set it at a faster pace. Guess we'll find out if I'm right when it comes out. :)
What book are you currently reading and in what format (ebook/paperback/hardcover)?
I'm currently reading an ARC of Pitch Green on my Kindle.
Do you judge a book by the cover?
Definitely. The cover is very important to any author. It not only draws the eye, and therefore interest, but it shows how professionally the book was put together.
Do you have any advice for other writers?
Join a critique group, asap. It doesn't matter how far along you are in your novel. You will learn more from a critique group than anywhere else.
Do you write under a pen name?
Sort of. I write under my maiden name. Before you ask, yes, my husband is totally fine with that. ;)
What are your pet peeves?
Bad drivers.
Vanilla or chocolate ice-cream?
Twist, of course! I love them both together, but don't like either of them plain and by themselves.
What do you normally eat for breakfast, of do you skip it and get straight to work?
A small portion of cottage cheese. Then I go to exercise, come home and have chia seeds and a green drink. I don't actually have a real meal until lunch.
What are 4 things you never leave home without (apart from keys, money and phone)?
Diaper bag, snacks (for my kids), my Kindle, and an extra shirt for my toddler – she's always spilling stuff on her shirt. I know: I'm totally giving off the mom vibe right now!
Sleep in or get up early?
Sleep in, if I could. With kids, I don't get much of a choice for when I wake. But I love to sleep in!
Laptop or desktop for writing?
I generally use the desktop – the keyboard we have is easier on my wrists. But I'm not opposed to using our laptop if I'm out.
Your favorite gadget –
The microwave!
Where and when do you prefer to do your writing?
At night at home. It's when my creative juices flow the most. I've got my kids on an early bedtime schedule, so it works out well. :)
Your thoughts on receiving book reviews – the good and the bad –
Love them both! Obviously, the good ones totally boost my ego. And the bad reviews usually have something helpful that I can implement in my next project. I realize my genre isn't for everyone and I simply appreciate an honest review, whether good or bad.
If you were deserted on an island, who are 3 famous people you would want with you?
Giada De Laurentiis, so we can eat well. Darlyne Murawski, a biologist would be very useful out there. And, Henry Cavill, a little eye candy can do wonders with morale. ;)
Where is one place in the world that you would really love to visit someday?
Greek Islands is my number one choice. But really, I just love to travel in general, so any trip would be exciting.
One of your favorite quotes –
"A life spent making mistakes is not only more honorable, but more useful than a life spent doing nothing." ~ George Bernard Shaw
List 3 books you just recently read and would recommend?
Iced, by Karen Marie Moning. Ever After, by Kim Harrison. Edenbrooke, by Julianne Donaldson.
List 3 of your favorite movies?
Noises Off, Fight Club, Oscar.
An actor or a book character you have a crush on –
It's probably already established from above that I have the hugest crush on Henry Cavill.
If your book was made into a TV series or Movie, what actors would you like to see playing your characters? Feel free to add pics.
Leisha: Amber Heard. Tafari: Micheal Ealy. Rinwa: Hayden Panettiere. Annette: Bryce Dallas Howard.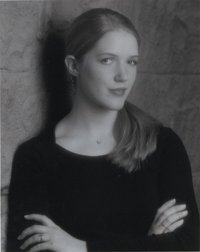 Where can your readers stalk you?
My blog: http://www.adriennemonson.com/
My facebook page: http://www.facebook.com/adriennemonson
My Goodreads author page: http://www.goodreads.com/author/show/6584385.Adrienne_Monson
Twitter: https://twitter.com/#!/adriennemonson
Is your book in Print, ebook or both?
Both. You can find it wherever books are being sold. :)
Thanks for letting us get to know you – can't wait to read the book!