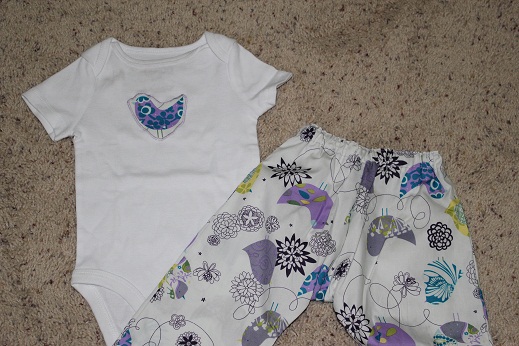 I'm always on the lookout for new baby shower gift ideas. This last weekend, my dear friend gave me this cute ensemble for my baby due in July. I love  giving (and receiving!) handmade gifts so I'll definitely be stealing this idea.
Here's what you'll need:
a onesie
1/2 yard cute quilting cotton
elastic
a scrap of heat 'n bond
coordinating thread
I could really go wild in a quilting shop. There are always about two dozen fabrics that call my name as I walk through. So the hard part on this project is not finding a cute fabric, but picking ONLY one (or two or sixteen).
Choose fabric that has a pattern conducive to cutting out an image for your appliqued onesie.
Apply heat'n bond to the reverse of your cut-out and iron on to the onesie. Then zig-zag stitch around in a coordinating thread.
For the pants, you'll probably need a basic pattern. These pants are really simple – just a casing and elastic for the waistband and a simple hemmed leg. A perfect lightweight little outfit for any new babe!