[*You can earn additional entries for each contest we will be having this week. The easiest way to earn the most points is to blog about my contests, which will be happening Monday – Thursday and next Monday and Tuesday. To read more about earning additional entries, click here.]
To kick off this week's HUGE and AWESOME giveaway bonanza, we have some great prizes for one lucky winner. Be sure to check back often as we will be announcing new prizes every day this week.
One lucky winner will receive these 3 products: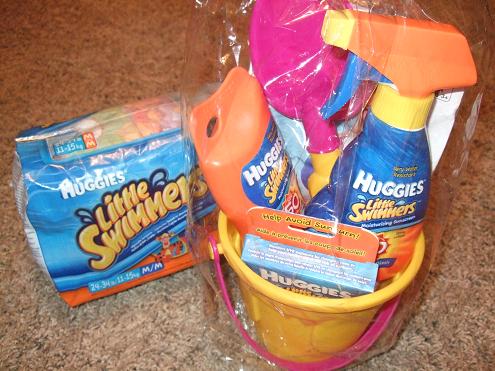 1. A Huggies Summer Essentials Kit, complete with Huggies Little Swimmers swim diapers, one bottle of SPF 50 sunscreen lotion, one bottle of SPF 50 sunscreen spray lotion, a package of 24 sun sensors, a beach ball, a shovel, and a bucket.
The swim diapers are size M for little ones 24-34 lbs and come in the Nemo and Pooh Bear designs. I have never tried another kind of swim diaper because these are so great – they are super absorbent and have tear away sides so they are easy to remove after swimming.
I happen to have all of these Huggies products and we have used them a bunch already this summer. This baby sunscreen is super protective – we have been outside a ton and Joel has never gotten even a hint of a sunburn. The lotion is great for vast expanses of skin like backs and tummies, but the spray is awesome for those hard to reach areas like hands, feet, neck, ears – all those places kids hate getting both washed and smeared with sunscreen. We use this great sunscreen along with the sun sensors so we know when it's time to put on more or find some shade.
The toys are great, the whole package is great. One lucky winner will be set for summer! Thank you Huggies!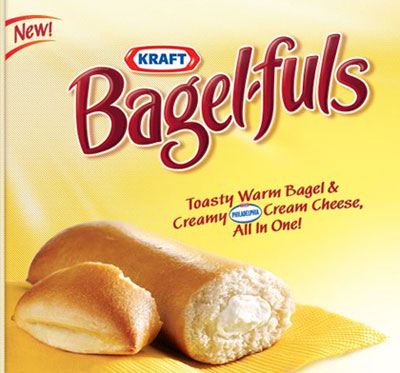 2. 2 Boxes of Kraft Bagel-fuls – winner's choice of flavors. This is a new product from Kraft, and I think it's pretty cool. It's kind of like a corn dog, with the bread on the outside and the dog on the inside, but it's bagel instead of corn bread and cream cheese instead of dog. You pop them in the toaster (that's my favorite way to eat them) or microwave them and your delicious breakfast is ready in less time than it takes to get out a plate and pour a glass of milk.
Bagel-fuls come in lots of flavors including original, cinnamon (that's one I still want to try!!), strawberry, plain bagel with chive cream cheese, and whole grain bagel with original cream cheese. I've tried the whole grain and strawberry, and they were both tasty.
Some of you might be interested to know that they each have 200 calories (or less), 6 grams of fat (or less), 220 mg of sodium (or less), and 0 grams trans fat.
My two favorite things about Bagel-fuls, besides the yumminess, are they are quick and my picky eater likes them. Any food that meets those two criteria is a hit with me. I think you'll love them. Thanks Kraft Foods!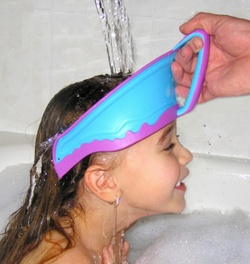 3. Last, but certainly not least, is a Lil Rinser, one of my favorite new baby bath products. I found out about these after having some serious trauma during baby bath time, particularly the hair washing part. This product was a light in the darkness for us!
You can watch a video over at lilrinser.com to see exactly how they work, which I would recommend doing. Basically it's a shampoo shield that keeps the soap and water out of baby's face and ears, and it comes in 4 bright and fun color combinations.
One of my favorite features is that the Lil Rinser is one size fits all. Ours arrived in the mail the day before my husband split his forehead open playing basketball – he used the Lil Rinser to keep his cut dry while washing his hair, so it really is multipurpose! The Lil Rinser can be used by a baby or child, an adult with a head wound, or an elderly parent or grandparent. Brilliant!
Our Lil Rinser has improved the overall bath time experience. Our whole family enjoys bath time more when he isn't worried about the hair washing part. Thanks Lil Rinser, for making bath time happy again!
_________________________________________________________
Blog Giveaway Guidelines:
You have 3 days to enter this blog giveaway, until midnight PST on Wednesday, July 2nd.

You must make a single comment on this post to enter. To learn how to earn additional entries for each contest, click here.
Anonymous comments will be ignored/removed.
One entry per person via commenting, please.
The winner will be randomly picked and announced in a new post on Thursday morning.
If you have a product you would like Vanilla Joy to review and giveaway, email me at kelsey [at] vanillajoy [dot] com. Thanks!