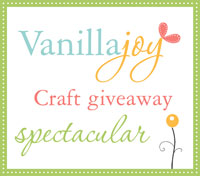 ***This giveaway was originally scheduled to end Sunday at midnight, but it has been extended one extra day. You can enter to win The MiniBox through midnight tonight. Good luck!
I have been talking about this giveaway for weeks, and the anxiously awaited day has arrived!!! And, just like all other Vanilla Joy contests, you can earn extra entries which you are really going to want. This prize is a big one, so I'm happy to give you chances to increase your odds of winning. Like always, you earn the most points by blogging about the contest (15 points per post) and linking back to Vanilla Joy (10 points per link). Click here to learn all the ways to earn extra entries.
Now for the prize: The MiniBox by The Original Scrapbox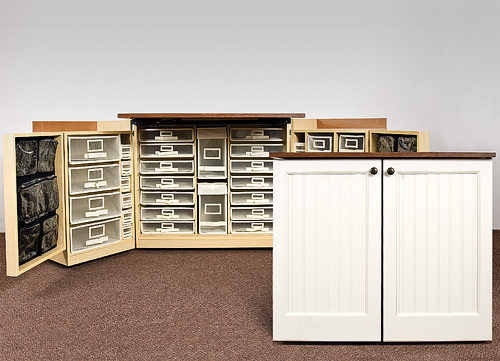 Yes, I'm totally serious about this. One lucky person will win this $800 ultimate craft storage desk called The MiniBox. This fabulous craft storage furniture piece is made by The Original Scrapbox, and it comes in vanilla, and black, bead board or raised panel. Isn't it beautiful? You can watch a video on The Original Scrapbox website to see how it works.
If you're a serious crafter, you are going to L.O.V.E. the MiniBox. You will wonder how you ever lived without it. You will put it on your list of your most prized possessions. And you will craft much more efficiently and therefore more. It's like magic. And one of you is going to win this baby.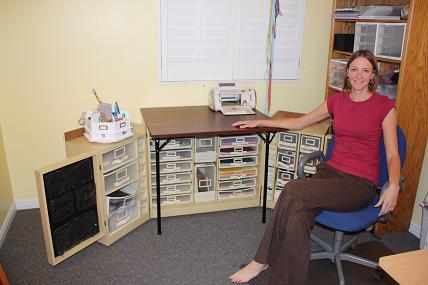 Here I am with mine in my little office – I try to give away only stuff that I have tried, tested, and loved, and I seriously love the Minibox. I can sit at my MiniBox and not have to get up from my chair a single time. Everything I could possibly need is within arm's reach, and for the first time, every scrapbooking/crafting item I own has a home. I have arranged my paper by color, something I could never have done before, because now I have 14 -12×12 drawers. I have all my awkward sized tools tucked away so they're not poking out everywhere. I have all my paper cutters, punches, Cricut cartridges, magazines, bookbinding tools, and CDs all neatly organized in their own individual drawers.
I find myself having more time to actually craft because I spend so much less time looking for things. It's wonderful. A crafter's wildest dream. I never realized how vital good organization was to my creativity and crafting! Things have certainly changed for me in this area since I got more organized than I've ever been in my life.
And all folded up, it's a beautiful piece of furniture. I can see mine from our family room, and I love to just gaze into the room at my beautiful and functional desk. My MiniBox is probably my favorite thing in my whole house. I hope our basement never floods. I will die if it does.
We are going to do something different this time, so read carefully: I will randomly select 20 finalists for this giveaway. Those 20 people will be able to write a short paragraph telling me why they should win the MiniBox. So the winner this time is going to have to earn it! I thought that choosing 20 finalists would give more people a better chance. You still have to make a comment to enter, and in your comment please tell us why you should be the winner. And again, earn those extra entries.
Thank you to The Original Scrapbox, and GOOD LUCK one and all!!!
___________________________________________________________
Blog Giveaway Guidelines:
To enter this contest, leave a comment on this post between now and midnight PST on Monday, September 22nd. Please tell me why you should win this prize.
You can earn additional entries for this contest. To learn how, click here.
One comment per person – if you're new here your comment will go into moderation and will not show up immediately. I will approve it. Please don't make multiple comments because you think your computer is broken.
This giveaway is only open to residents of the continental United States…sorry.
The winner will be randomly picked and announced in a new post on Monday morning.
If you have a product you would like Vanilla Joy to review and give away, email me at kelsey [at] vanillajoy [dot] com. Thanks!