Book Giveaway #14 – America's Test Kitchen's Best Simple Recipes AND Cuisinart Food Proccessor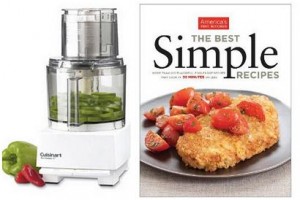 THE PRIZE
One reader will win a copy of The Best Simple Recipes from America's Test Kitchen AND a Cuisinart Pro Custom 11 Food Processor ($170).
MY REVIEW
Cuisinart and America's Test Kitchen are always a good idea. Any appliance, any recipe and I know it'll be the best. These two products are no exception.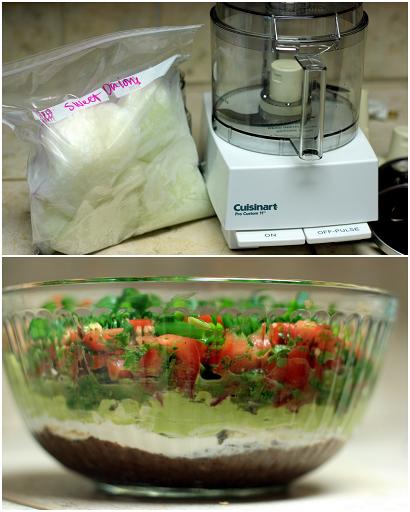 I wanted to test for myself this food processor, the Cuisinart Pro Custom 11, because it's the recommended choice in America's Test Kitchen Family Cook Book (which I live by). And of course I love it!
My old food processor didn't fit anywhere because the shape was weird, but the Pro Custom 11 has a huge capacity and the base is a simple rectangle, so it fits EVERYWHERE!
It comes with a chopping blade, a dough blade, 2 slicing discs (2mm & 4mm), and a shredding disk. I use it all the time to grate cheese (because I'm cheap and don't buy it pre-grated) and it takes about 3 seconds to do 1/4 of a block. Watch your fingers! Actually, the feed tube is nice and large so your fingers don't even have to get close.
I especially love the Pro Custom 11 for chopping onions. I hate chopping onions by hand so I can just toss one in and watch the action! I bought a 50 pound bag of onions recently and have been working on chopping them all to freeze.
I also used the Pro Custom 11 to chop/puree almost ever layer in the Ultimate 7 Layer Dip I posted about a while back. Sooo quick and easy, including clean up!
The motor is powerful enough to do all your chopping, slicing, grating, and even mixing dough. A food processor is really an invaluable kitchen tool, and Cuisinart makes the best.
And as for America's Test Kitchen, I've found another new favorite cookbook – The Best Simple Recipes. Ohmygoodness the pasta recipes are amazing and really do cook in 30 minutes or less.
This week we tried 3 pasta recipes and…yum!
Weeknight Lasagna Roll-Ups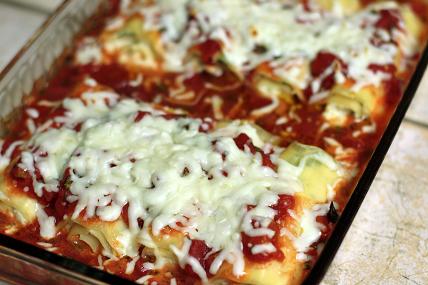 I really struggle with lasagna recipes, particularly the red sauce portion. I've tried several handfuls and always end up with something tragically tasteless. This lasagna recipe is so easy (less than 30 minutes to prepare), uses standard ingredients, and has so much flavor! The tomato sauce is fantastic and my search for a top-notch recipe is officially over!
8 no-boil lasagna noodles
1 (15-ounce) container ricotta cheese
2 c. shredded mozzarella
1 1/2 c. grated Parmesan
1 large egg, lightly beaten
1/2 c. chopped fresh basil
1/2 t. salt
1 (28-ounce) can crushed tomatoes
3 T. extra-virgin olive oil
4 garlic cloves, minced
1. Preheat oven to 475. Place noodles and hot tap water to cover in a casserole dish. Microwave until noodles are softened, 3-6 minutes. Discard water and dry dish. Lay noodles in single layer on clean kitchen towel to dry.
2. Meanwhile, combine ricotta, 1 c. mozzarella, 1 c. Paremsan, egg, 1/4 c. basil, and salt in a bowl. Combine tomatoes, oil, garlic, nd remaining basil in another bowl. Spread half of tomato mixture in casserole dish. With short side facing you, spread 1/4 c. cheese mixture (about 1 large spoonful) on each noodle, roll, and arrange seam side down in casserole dish. Pour remainig tomato mixture over roll-ups.
3. Microwave, covered, until roll-ups are tender and heated through, 6-10 minutes. Uncover and sprinkle remaining mozzarella and Parmesan over roll-ups. Bake until cheese is melted and lightly browned, about 5 minutes. (I didn't microwave but baked mine in the oven for 10 minutes and it was perfect!)
Cheesy Ravioli Bake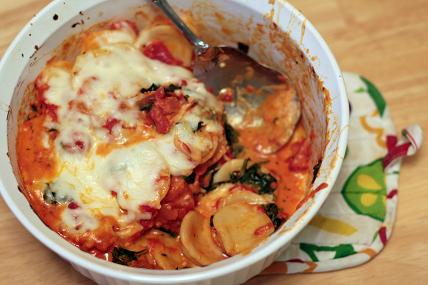 We also had the Cheesy Ravioli Bake this week and it was another winner! Again, less than 30 minutes to prepare, a superb tomato sauce, and I can't wait to have leftovers.
This cookbook has quick, easy, and delicious recipes for every course and occasion. With lots of recipes I try I have to adjust and add seasoning, but America's Test Kitchen is usually perfect as is.
Thanks to Cuisinart and America's Test Kitchen for sponsoring this giveaway!
GIVEAWAY RULES

Visit Cuisinart and America's Test Kitchen
Make a comment on this post telling me your favorite products before midnight Sunday, October 17.
A winner will be selected and announced at the top of this post on Monday.
Only one comment per person unless you earn extra entries.
Giveaway open only to residents of the continental United States…sorry.
Winners must email me to claim their prize within 5 days.
EARN EXTRA ENTRIES
You may earn 1 extra entry each for doing the following (make a separate comment for each thing you do):
Facebook about the contest with a link back here
Subscribe to my feed
Sign up for my newsletter
Add my button to your sidebar
Comment on any non-contest post (must contribute to the conversation)
{These products were provided to Vanilla Joy for review purposes.}