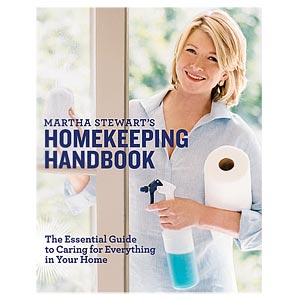 This book is a great resource for everything that concerns the home. She goes through every room in the house and talks about different choices for textiles/floor surfaces/etc., how to clean EVERYTHING, and sooo much more.
One of my favorite parts was a little section with instructions for folding a fitted sheet. Fitted sheets are my nemesis! They always end up looking wadded up instead of folded, and I never thought that there was a good way to do it! Sometimes being wrong isn't so bad…
She also recommends using vinegar for cleaning toilets, which I had never tried. I used some vinegar on a toilet I had given up on, and the disgusting ring eventually disappeared with some vigorous scrubbing!
I checked this book out from the library, but it's one I need to own. There is just too much in it to get through in just three weeks. The list price on this book is between about $45 I think, but I found it on half.com for around $14, a reasonable price for such a comprehensive resource.
To view past Book Talk selections click here.