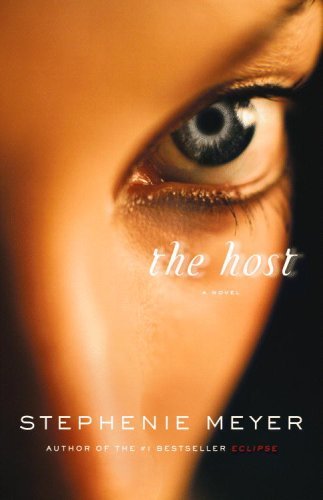 I just finished The Host and it was a real page turner.  I enjoyed the Twilight series, and I also like science fictiony books, so I expected to like this one.  If you didn't like Twilight, try this one out anyway.  It is an adult novel and the writing is better than Twilight.
The Host is a body snatcher book with some nice variations.  Basically humanity has been overtaken by a species of alien life forms called souls who view humans as violent and hedonistic creatures.  A group of souls called Seekers capture the surviving humans and take them to the Healers to insert a soul and erase the human from his/her body.  The human is supposed to go away after the soul is inserted, but Melanie doesn't.  Wanderer, a soul, is put into Melanie's captured body and, when she doesn't go away like she's supposed to, Melanie and Wanderer become friends and begin to understand rather than hate each other.   The story is about acceptance and love.
I'm not sure if it's a a love triangle or not, but there are definitely two men going after the same body.  Meyer really knows how to tell a love story and make her readers become totally involved in the emotions of the book.  I cried several times, which might be reasonably blamed on the lateness of the hour and the weakening of my rationality, but the book was very emotionally intense.  I was exhausted after I finished.
I grew to love all the characters you're supposed to love in The Host.  Meyer did a great job developing her characters.  I absolutely fell in love with another two hunky heroes, but one in particular.  She really knows how to create the man of every girl's dreams!
The dialogue was confusing at times – I didn't always know what was going on.  Some of that was unclear writing, some was Meyer's method of creating suspense.  She would tell particulars before generalities, so she describes things as if you know what she's talking about.  The times it made sense it was definitely an effective way to create suspense and foreshadowing.
Overall, I enjoyed it.  Let me know what you thought!