I am so excited to announce this giveaway! I love aprons, especially beautiful ones, and Heavenly Hostess is the best place to find them. Today's winner will get this Mod Martini Halter Apron by Heavenly Hostess.
Each Heavenly Hostess apron is reversible so you can choose which print you want to see more of. They're both beautiful, so it's fun to switch it up. Although not included in the giveaway, you can buy a matching kitchen towel, potholder, or headband for most styles – I love matching accessories!
I never thought aprons could be so beautiful! She uses the most gorgeous fabric to make all her beautiful products. I love the idea that you can be beautiful even if you stay at home and work in the kitchen all day. An apron like the ones you find at Heavenly Hostess make me want to hang out in the kitchen more often.
Besides their halter apron, Heavenly Hostess also has cocktail aprons, half cotton aprons, chef aprons, bib aprons, potholders, kitchen towels, and headbands. So many beautiful things!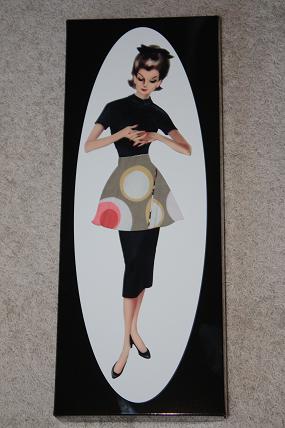 Heavenly Hostess is very conscious of the little details that make something special. Not only are her aprons made with high quality, beautiful, and thick fabric with precision in their stitching and construction, the packaging is impressive as well. Each apron comes in a fancy little box, just like you see in the movies! The print that you have chosen shows through a little window as the woman's skirt, and the apron is folded beautifully inside. On the back of the box is Heavenly Hostess's logo and moto: Serve with Grace, and a scripture from the Bible about using our abilities to bless others.
Heavenly Hostess aprons are a bit pricey, but the quality and care that is taken with each one is absolutely worth ever penny. I haven't felt so pampered in a long time! I think I'll wrap this up for myself and open it again on Christmas, just to get to open that beautiful box again. Check out her store and pick out your favorite for Christmas – it will be your best present!
Thanks, Heavenly Hostess!
___________________________________________________________
Blog Giveaway Guidelines:
To enter this contest, leave a comment on this post between now and midnight PST on Friday, December 12th.

You can earn additional entries for this contest, and I would strongly recommend doing so to increase your chances – it's easy!. To learn how to increase your chances of winning, click here.
One comment per person, and you must include your name.
This giveaway is only open to residents of the continental United States…sorry.
The winner will be randomly picked and announced in a new post on Monday morning.
If you have a product you would like Vanilla Joy to review and give away, email me at kelsey [at] vanillajoy [dot] com. Thanks!