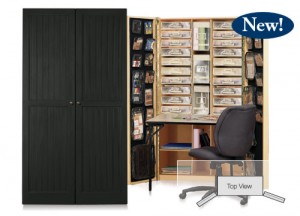 I just heard about a giveaway that's happening on The Original Scrapbox's website.  They are giving away the Craftbox, their new product, and the winner will be the person with the messiest craftroom! If you think your craft room needs help, submit a picture of your disaster area and enter to win!
The winner will be chosen based on how many votes you get, so tell all your friends to vote for you and you can win even if your craft room isn't the most horrible! Click here to read more about the contest, and click here to upload your photos.
I have the Minibox, and it has totally transformed my craft area and increased my creative energy. I am so much happier when my space is organized! Frankly, I wish the had come out with the Craftbox sooner – I want it!
Your chances are much better to win this contest because the winner isn't random, so hurry and take some pictures and tell all your friends to vote for you!

.