For my very first cooking club meeting the theme was "Things on a Stick" so I made Cupcake Pops (recipe from Bakerella). I wanted to do my own version of a tutorial, so here's how you make them. They're super cute and would be a great dessert party choice or neighbor gift.
Ingredients
1 – 13X9 baked cake, any flavor
2 c. cream cheese frosting (scratch or store-bought)
1 package chocolate bark
1 package white chocolate bark
Other things you'll need
1 flower shaped cookie cutter (1.25″ wide X .75″ tall)
Bowls for dipping
Wax paper
Aluminum foil
Lollipop sticks
Topping – sprinkles, M&Ms, crushed candy bar
Styrofoam block
1. Prepare cake and let cool completely.
2. Crumble cake into large bowl and add cream cheese frosting. Blend well.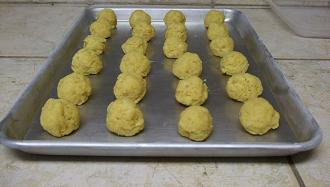 3. Roll cake into little balls (1-2 inches in diameter) and place on cookie sheet covered with wax paper.
4. Cover and chill in refrigerator for several hours or for 15 minutes in freezer.
5. Shape the balls into cupcakes using the cookie cutter. Watch video below to see how I did it.
6. Once all the cupcakes are shaped, freeze for 5-10 minutes or leave them in the refrigerator for a few hours if you want to finish later.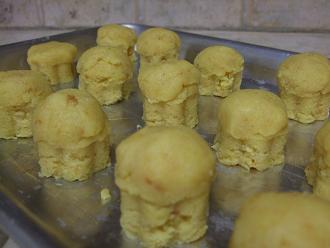 7. When you're ready to do the dipping, heat up the chocolate bark according to package instructions.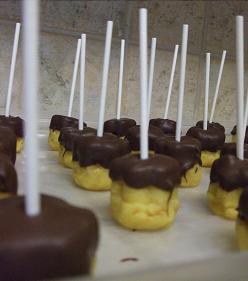 8. Prepare another cookie sheet covered with wax paper. Dip the bottom of the cupcake into the chocolate almond bark, right to where the flower shape meets the top cupcake shape. DON'T GET WATER IN THE CHOCOLATE – it will ruin it.
9. Turn the cupcake upside down and place on the cookie sheet. The chocolate will slide, that's okay.
10. Insert the lollipop sticks into the bottoms of the cupcakes immediately. You'll have to insert the stick after each one – don't wait until they're all dipped to put the sticks in because the chocolate will have solidified by then.
11. Let dry for 10 minutes.
12. Prepare the white chocolate bark according to package instructions.
13. Dip the cupcake tops into the white chocolate, sprinkle with sprinkles or candy, and insert stick into the styrofoam to dry.
Makes about 50.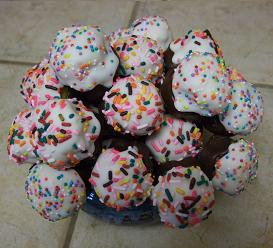 I had a ton of fun making these – I'll make them again on our next rainy day. Thanks, Bakerella, for the recipe and instructions!