Start the Christmas season out right by having a special family activity to talk about the Nativity. Afterall, Christmas is a religious holiday and it does have a story behind it! The first Sunday in December is the perfect day to do this.
Even if you wouldn't consider yourself a religious family, you can still talk about the Nativity. The Nativity story is the reason we have Christmas so it's history as well as religion. I think it's important for kids to grow up knowing how Christmas came about even if you don't practice a religion in your family. In a world of acceptance and "tolerance," it is wonderful to be aware of and knowledgeable about what religious people believe too. Have fun!
Here is a brief description/explanation about all the elements in the Nativity.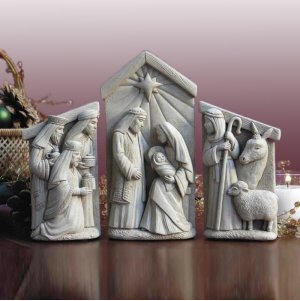 The "Nativity" is, of course, the story of Christ's birth. Mary, the mother of Jesus, and Jesus, the son of God, are always present in nativity representations. Joseph, Jesus' earthly father and Mary's husband, is most often present as well.
Other elements of the nativity are as follows: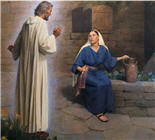 Angels: The angel Gabriel appeared to Mary telling her that she would give birth to the Son of God.
When Joseph found out about Mary's pregnancy, he wanted at first to "divorce" her. As he thought about what to do an angel appeared to him and told him not to fear taking Mary to wife. "That which is conceived in her is of the Holy Ghost. And she shall bring forth a son, and thou shalt call his name JESUS: for he shall save his people from their sins." (Matthew 1:20-21)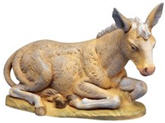 Donkey: Joseph and Mary traveled to Bethlehem to be taxed while Mary was still pregnant. She rode a donkey for the long journey.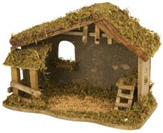 Stable: Jesus was born in a stable because there was no room in the inns of Bethlehem. The stable represents the humble nature in which Jesus, the Son of God, was brought into the world.
Manger: Jesus was placed in a manger, a feed box for animals, because there was no crib for His bed. "And this shall be a sign unto you; Ye shall find the babe wrapped in swaddling clothes, lying in a manger." (Luke 2:12)
Star: A new star appeared in the heavens to indicate the place where Jesus was born. The wise men followed the star and were able to find Jesus.

Wise Men: Very little is known about the wise men. An exact number is not known but there are typically three represented because of the three gifts that were brought to Jesus.
Gold: A precious metal associated with the power of kings
Frankincense: A resin from a rare and sacred tree used as incense
Myrrh: A resin from a shrub used in making perfume.
[definitions from apples4theteacher.com]
St. Matthew's account tells us that the wise men followed the star in the east. "The star, which they saw in the east, went before them, till it came and stood over where the young child was." (Matthew 2:9) There is also some indication that the wise men did not visit Jesus on the night he was born.
Camels: It is assumed that the wise men traveled on camels.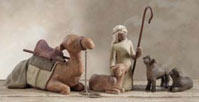 Shepherds: An angel appeared to the shepherds and announced the birth of Christ to them.
"And there were in the same country shepherds abiding in the field, keeping watch over their flock by night. And, lo, the angel of the Lord came upon them, and the glory of the Lord shone round about them: and they were sore afraid. And the angel said unto them, Fear not: for, behold, I bring you good tidings of great joy, which shall be to all people. For unto you is born this day in the city of David a Saviour, which is Christ the Lord. And this shall be a sign unto you; Ye shall find the babe wrapped in swaddling clothes, lying in a manger. And suddenly there was with the angel a multitude of the heavenly host praising God, and saying, Glory to God in the highest, and on earth peace, good will toward men. And it came to pass, as the angels were gone away from them into heaven, the shepherds said one to another, Let us now go even unto Bethlehem, and see this thing which is come to pass, which the Lord hath made known unto us. And they came with haste, and found Mary, and Joseph, and the babe lying in a manger." (Luke 2: 8-16)
The shepherds are also significant because Jesus was himself a "shepherd of men."
______________________________