{We have a winner! The winner of the UNO Flash game from Time to Play is Rebecca C. She said, "Our family loved the game of Life as well as monopoly (though I think we mostly played monopoly to learn about math). Now that we are older we enjoy the older games like Cranium."
CONGRATULATIONS, Rebecca! Email your address to kelsey[at]vanillajoy[dot]com to claim your prize. Thanks, Time to Play!}
With all the economic uncertainty, one family fun activity that is inexpensive and always lots of fun is a family game night. I've written before about how much I love games, and I really do. Family game nights are a great way to strengthen your family by spending time doing something fun together!
The folks at TimetoPlayMag.com are really trying to get families playing games again – they're giving away a game to help you start your family game collection!
THE PRIZE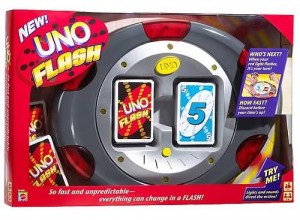 One lucky reader will win Mattel's newest Uno variation, Uno Flash!
THE REVIEW
Unfortunately, I have not yet had the chance to play this game, but as I understand it, it's a faster and more random version of classic Uno.
How to Play UNO Flash
Each player has a button on the game console. Instead of taking turns in a consecutive clockwise fashion, the console decides who goes next by lighting up a player's button. That player has only a few seconds to play their card and push their button to signal the end of their turn.
So players never know when it will be their turn next and once their button lights up, they only have a few seconds to complete their turn. Sounds like a great family game that we might just have to get!
I haven't played Uno Flash, but another game family game is Apples to Apples. If you've played it, you know how hilarious it can be.
Playing games like Apples to Apples is most fun with your family because you know them the best and understand all their quirky and ridiculous responses!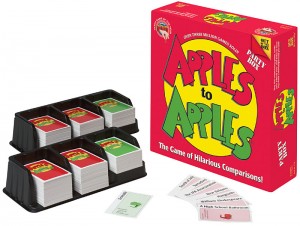 How to Play Apples to Apples
If you haven't played, the rules are simple. Throughout the game, each player keeps 7 red apple cards. On your turn you are the judge. You choose a green card and read the word aloud. Each other player decides which of their red cards goes best with the green card. The judge decides which red card he/she likes best and the person who played that card wins a point!
Depending on what red cards you have, the combinations can be hysterical. This game accommodates up to 12 players, so everyone can play, and it's easy enough that if you can read, you can play.
Family Game Night Article
One of the editors at TimetoPlayMag.com wrote an interesting and fun article about his favorite family games as a child. Some of his favorites that are also my own include Phase 10, Scattergories, Taboo, Apples to Apples, and Cranium. I remember playing and loving several others as a kid like Pit, Life, Classic Uno, Canasta, Backgammon, and Trouble.
Creating Family Memories
Some of my best childhood memories are of playing games with my family. There is absolutely no substitute for quality time spent together as a family, and game nights are a great way to make sure this essential family bonding happens without feeling like torture! All kids love games, don't they?!?
If family game night is something you haven't done yet with your family, these two games would be great to start off with. Make an investment in a family game and start playing!
GIVEAWAY GUIDELINES

Visit TimetoPlayMag.com.
Come back here and leave a comment telling me your favorite childhood/family game before midnight Wednesday, April 8.
A winner will be selected and announced at the top of this post on Thursday.
Only one comment per person unless you earn extra entries.
Giveaway open only to residents of the continental United States…sorry.
EARN EXTRA ENTRIES
You may earn 1 extra entry each for doing any of the following (5 total extra entries possible). You must leave a separate comment for each extra entry.
Blog about the contest with a link back here
Subscribe to my feed
Sign up for my newsletter
Add my button to your sidebar
Comment on any non-contest post (must contribute to the conversation)
GOOD LUCK and THANKS, Time to Play!