"This post was sponsored by Nature Made® as a part of an Influencer Activation for Influence Central."
Every new year brings new challenges and one I'm focusing on this year is improving my overall health and wellness. I am in my early thirties and have always felt pretty healthy but in the last year or two I have noticed that keeping up with my four boys is getting a little harder…I have less energy and find myself dragging with minor illnesses (colds, etc.) more than I'd like. I just know that with a few minor changes to my diet and habits I can boost my energy levels and be as ready for exploration and adventure as my four boys are.
I took a look at my diet and determined that I need to make a few changes:
eat less sugar
eat more vegetables
take dietary supplements
I started last year to cut back my sugar intake and it's a new habit I've been able to keep. Increasing vegetables has been easy as I've substituted them for sugar. Now when I'm feeling snackish, I opt for carrots and cucumbers instead of a cookie and feel so much better.
L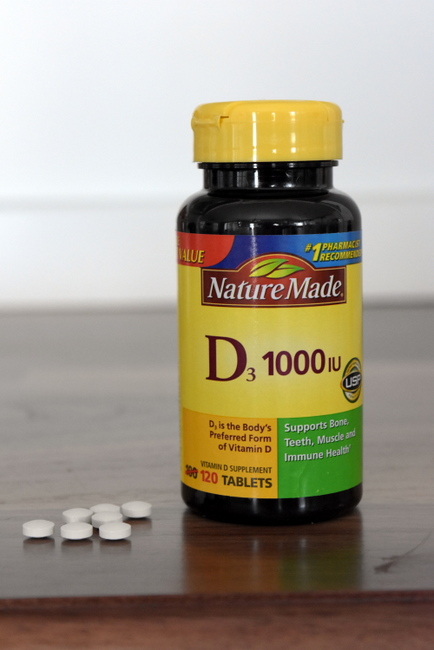 astly, dietary supplements have been the easiest part of my plan to implement. I chose Nature Made, the nation's #1 best-selling brand of vitamins, minerals, and supplements from WalMart – I do most of my shopping there so adding vitamins to my shopping list couldn't be easier.
Nature Made vitamins at WalMart are always a great low price and I can always find just what I need to supplement my diet.
I'm working on increasing my overall energy by consuming less sugar and more vegetables and I'm taking Nature Made Vitamin D3 supplements to help boost my immune system. I have been sick too many times in the last year and with our long Utah winters, I'm betting a lack of Vitamin D3 is contributing to the problem.
Nature Made Vitamin D3 supports bone, teeth, muscle, and immune health, all of which I need! I'm not getting enough D3 through my diet so this supplement is a great, inexpensive, easy solution.
Each tablet is 1000 IU which is 250% of the daily recommended amount. Wahoo! I make sure I take one at least a few times a week and I am definitely noticing myself staying healthier.
Besides the convenience of picking my Nature Made up from Walmart, I appreciate that there are no added colors, artificial flavors, preservatives, yeast, or gluten present in the tablets.
Now that we're almost two months in to the New Year, how are your health and wellness goals going? Getting and staying healthy and well is a lifetime pursuit and takes effort every day! You can do it! Take a day at a time and make healthy choices and you'll feel so much better!
If you need a little help (and we all do!), check out Nature Made's Daily Boost program to get ideas on how to boost your wellness.
And now, fellow humans, carry on! Be healthy and happy! And let Nature Made help you get enough of the good vitamins and minerals your body needs.
I-C will randomly select 20 winners from all program entries and will handle fulfillment of the winning prizes. Good Luck!