This is the last week of giveaways for this blogiversary spectacular! Whew. I'll be glad to get back to my regular posting about family, home, crafts, and kids.
We've had lots of winners and today I'll be announcing more awesome prizes! To wrap up the celebration of my one year blogiversary, 5 people will each win one of the 5 following prizes:
1. A Pink Vado Pocket Video Cam by Creative Labs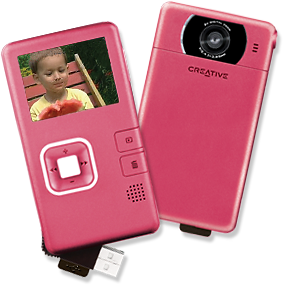 We have a Sony video camera that I liked, but I haven't used it once since I got the Vado by Creative Labs. It's so handy to take around with you, which is probably why I use it all the time. I can keep it in my pocket and whip it out whenever I want. It's totally inconspicuous too (except for the bright pink part…) so people won't necessarily know you've got a video camera – it could be a cell phone or an MP3 player. Most of the best video footage, especially in your daily family life, is taken when people don't know the camera is on!
My other favorite part about the Vado pocket video cam is how easy it is to upload the videos onto the computer. Our computer isn't really good enough to handle actual videos from a real video camera, so I have to save up all my uploading and do it on my husband's computer at work. I had to buy a firewire port to put in that computer, so it's been a pain. Before, all my videos were several months behind because I had to wait until the tape was full to upload them.
The Vado plugs straight into your computer – the USB port is connected so you don't ever have to worry about losing or forgetting it. And the videos are a naturally small so uploading them to Blogger or YouTube is quick and easy.
My family in Oregon is enjoying much more video footage of Joel since I got the Vado becaucse it's so fun and easy to use! The winner will receive a pink Vado Pocket Video Cam by Creative Labs – a $99 value.
2. Pink Zen Mozaic 4GB MP3 Player by Creative Labs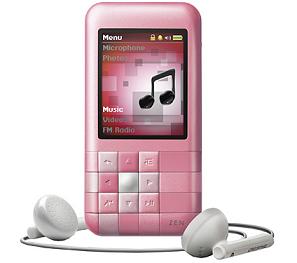 I am a big fan of the Zen MP3 players. I use mine all the time, especially when traveling or just working around the house. I'm not a big music junkie, I mostly listen to audiobooks and things like that. The great thing for me about the Mozaic is that it has FM radio so I can listen to news no matter where I am! My Mozaic allows me to stay informed even when I'm not in the car.
I love the small design, the great built in speaker, and the long battery life. The battery seems to last forever without needing to be charged! Nothing bugs me more than a gadget that is constantly losing power (my cell phone, for example. GRRR!). Battery life is an important quality to me, and the Mozaic lasts up to 32 hours. And it's pink!
The winner of this contest will win a 4GB pink Zen Mozaic MP3 player by Creative Labs. Lucky you!
Thanks, Creative Labs!
3. Fantastic Firmers Mid Thigh Shaper from ASSETS by Sara Blakely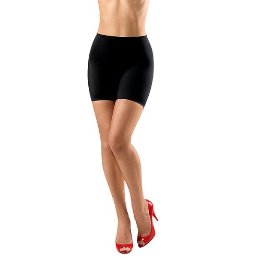 Assets are Sara Blakely's line of body shapers sold at Target stores, and they're just as awesome as her Spanx line (don't you love that name!). A great body shaper is a quick and easy way to feel thinner and more beautiful in your clothing. These body firmers really suck you in where you need it without creative those lines that scream, "I'm wearing a body shaper!"
According to the product description on the Assets website, here's how they work: "A soft, power mesh lining firms your tummy, thighs, and rear, providing the best control where you need it most. The uniquely bonded leg band lays flat against skin and prevents thigh bulge to keep you looking sleek under your favorite fashions."
I know when I'm wearing my firmer, I feel more together and like my clothes look great on me. Maybe I look the same to everybody else, but that's not what it's about, is it? If I think I look good, I feel great.
The Assets line is sold at Target, and the firmers are only about $20 each – they come in black and nude, so you can get one of each to wear with everything. The winner will receive one pair of Fantastic Firmers – Mid Thigh Shaper in the size and color of your choice.
Thanks, Assets!
4. Jersey Scarf by Shade Clothing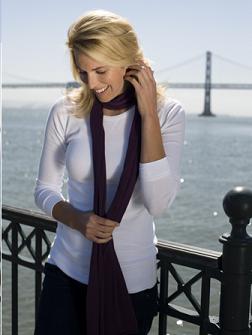 A fourth person will win this jersey scarf by Shade Clothing. These scarfs are made of ultra soft cotton jersey, so they're very comfortable and will never bother your skin, and they're easy to care for. They're nice and long so you can double them up, tie them in knots or other funky fun ways – this Shade scarf is going to be my favorite this winter!
They're $9.50 (totally affordable) and come in several beautiful colors: coal, cream, deep blue, golden, mulberry, and poinsetta (click here to see the colors). A scarf is a great way to spice up your winter outfit, and these colors are great for accenting.
Thanks, Shade Clothing.
5. $25 Gift Certificate at Thoughts That Stick
I know I said the Etsy giveaways were over, but I had to throw in just one more fabulous vinyl wall graphics artist. I love the designs of Thoughts That Stick so much, I wanted to share them with you.
As you can see from the above images, her designs are totally unique and she has something for every interest, hobby, and personality. I love the diversity of her designs – I've seen lots of dress form graphics before, but hers are by far my favorite. I love this design – wouldn't that be so great in a sewing room? And for the traveler we have the Eiffel tower, a pirate ship for a little boy (she has several different versions of pirate ships), a little wishmaker for a girl, and lots and lots of trees, flowers, birds, and more for the nature/organic type.
She also has pages and pages of sayings. She is great with typography and everything else, so be sure to check out her store. The winner will get $25 to spend – so lucky!
Thanks, Thoughts That Stick!
These 5 giveaway prizes will wrap up the blogiversary celebration! Thanks for participating and I hope you'll join me in getting back into my regular posting about crafty things, home, and family ideas. Thanks!
___________________________________________________________
Blog Giveaway Guidelines:
To enter this contest, leave a comment on this post between now and midnight PST on Saturday, November 1st.
You can earn additional entries for this contest. To learn how, click here.
One comment per person – if you're new here your comment will go into moderation and will not show up immediately, but I will approve it so don't worry.
This giveaway is only open to residents of the continental United States…sorry.
The winner will be randomly picked and announced in a new post on Monday morning.
If you have a product you would like Vanilla Joy to review and give away, email me at kelsey [at] vanillajoy [dot] com. Thanks!