I don't know how people worked out before the days of tiny and portable music players, I know I can't exercise without some tunes to keep me going.

The SanDisk Sansa Clip Zip is perfect for working out – it's very small (measures about 1.5″ x 2″) and has a clip on the back to attach the player wherever is comfortable and convenient. It comes in 7 great colors, is inexpensive, and unbelievably easy to use.
One of my favorite features is that the memory is upgradable with a memory card slot – I hate being limited to a certain amount of memory… My other favorite thing is FM Radio! I'm an NPR junkie, and I actually love to listen to talk radio while I work out.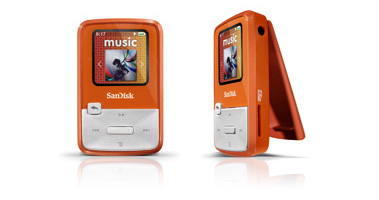 Here are some other great features of the Sansa Clip Zip:
1.1″ full color screen
Voice recording with built-in microphone (love this)
Play or record FM radio stations
AAC Compatible (DRM-free iTunes)
User-friendly interface
Versatility meets affordability
My top favorite thing (besides upgradable storage and FM Radio capabilities) is the ease of uploading. I have had some MP3 players that are IMPOSSIBLE to figure out, but the Sansa Clip Zip is so easy. Plug in and drag and drop files. So easy, I can do it and I can remember how to do it for the next time.
The price can't be beat at an MSRP of $49.99 so give yourself one for Christmas this year and make that New Year's resolution to exercise stick!
I wrote this review while participating in a campaign by Mom Central Consulting on behalf of SanDisk and received a product sample to facilitate my review, and coupons to giveaway.