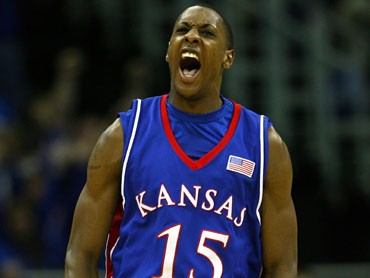 Monday night was the NCAA men's college basketball national championship game and Kansas won, which I predicted weeks ago. I was right! Well, I didn't exactly predict that Kansas would win based on my own knowledge of college basketball teams. I love watching college basketball, but I don't follow what happens throughout the season.
NPR's Robert Siegel interviewed math major Neil Goodson, a senior at the College of Charleston, to talk about his creation of a mathematical equation to predict who would win the NCAA championship. I wasn't fully convinced that the championship team could be mathematically predicted, but this Goodson said Kansas would win and so I decided that I would stick with that team.
My husband and I watched the game together, both rooting for different teams – talk about family fun! Kansas made a 3 pointer with 2 seconds left to tie the game and go into overtime, where they dominated. Math Major Person was right!!!
The NCAA basketball tournament has a special place in our family because last year when I was in the hospital after giving birth to our son via cesarean, the tournament was going on. Over the four days I was in the hospital we watched every basketball game that was on, so during the tournament this year I couldn't help but think back on the birth of my son.
The timing was perfect because my husband was not bored out of his mind during our stay at the hospital and I was able to rest and watch at my leisure.
We both played basketball in high school, so watching college basketball is something we enjoy doing together. When people used to ask us how many kids we wanted to have we'd always say, "Ten – so we can play 5 on 5 family basketball!"
Anyway, I'm pretty excited that my team won!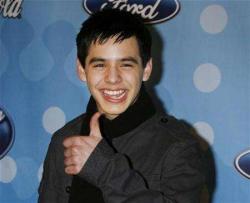 And by the way, I think David Archuleta has a really good chance to win American Idol this year – yes, I still watch it and he's awesome. That's about the only "reality" TV show I can handle (other than So You Think You Can Dance…).