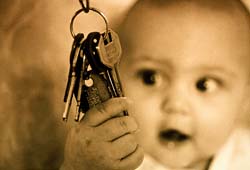 I always let Joel play with my keys, and I've discovered two problems with letting him use my keys as toys.
1. I have a devil of a time keeping track of them. As we speak, my keys are lurking in some unknown corner, and until I find them, I am constrained to my house.
2. Keys are just the right size to fit into electrical outlets, and you'd better believe that babies will discover this. You should have all electrical outlets covered for really young but mobile babies, but still be aware of this hazard when your baby is playing with keys.
One can never be too careful when it comes to your child's safety. Taking away the keys isn't necessary, since they provide a good 20 minutes of entertainment for a baby, just be watchful and aware of what he is doing with them.
[photo from jupiterimages.com]