Quilting Giveaway: Michael Miller Citron Gray Fabric & Block Party Book (CLOSED)
The winner is Kora Mae who said, "I love the black and white prints – is that boring of me?"
Send an email to kelseyatvanillajoydot com BEFORE MONDAY to claim your prize.
THE PRIZE
One very lucky Vanilla Joy reader will win a copy of Block Party — The Modern Quilting Bee (C&T Publishing) AND 1 yard each of the following 8 Michael Miller fabrics from the Citron Gray collection (that's 8 YARDS!!!):
Daisy Doolittle
Sunny Quarter Dot
Citron Bicycles
Kryptonite Dumb Dot
Pluto Dumb Dot
Citron Play Stripe
Citron Feelin' Groovy
Citron Stitch Petal
MY REVIEW
Michael Miller Fabrics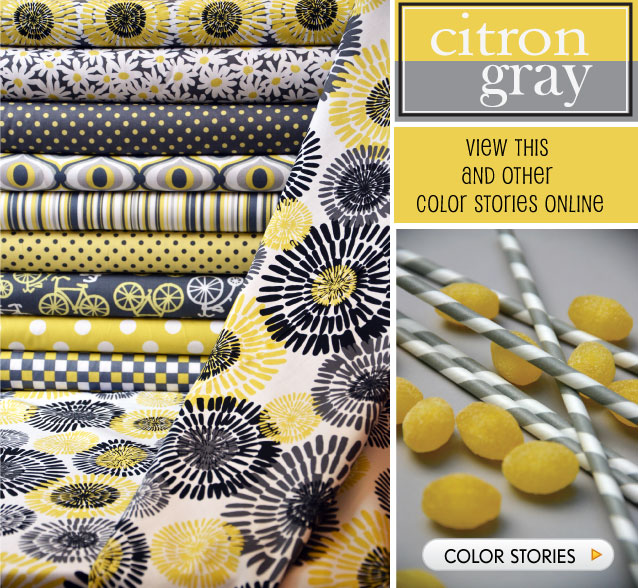 This yellow and gray color combination might just be the hottest thing around right now. At least I see it ALL OVER Pinterest, and that's totally a What's New and Awesome kind of place. That's where I find out what the latest trends are anyway…
So this color combo is totally hot and the prints in the collection? Also fabulous. There is a perfect mix of main and supporting prints for any kind of project.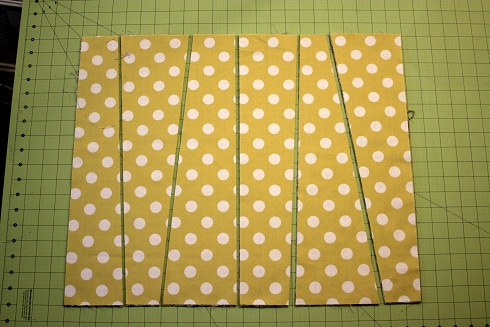 I agonized over how to use this beautiful fabric and finally came up with my own "original" pattern (with quilting how original can you really be…it's all squares and triangles…) and I LOVE how it turned out, mostly because of the beautiful colors and prints in the fabric.
I wanted to try a wonkyish sort of something, so I
cut each print down to 21″ x 18″ (to make an 18″ square after sewing the wonky pieces together)
stacked them all on top of each other and
cut my large square into 9 pieces, making sure to do it wonky (I went back and cut a few pieces in half, so I ended up with a few more sections than are shown above)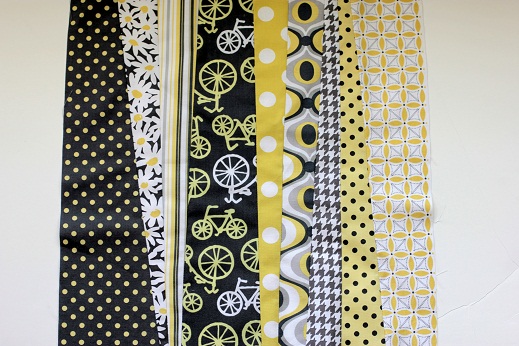 I then grabbed willy-nilly from the stacks and sewed 10 new squares with 9 prints each. And since I only had one of each shape per print they are all different and I didn't have to think about it!
Don't you love the bicycle print best of all? I do…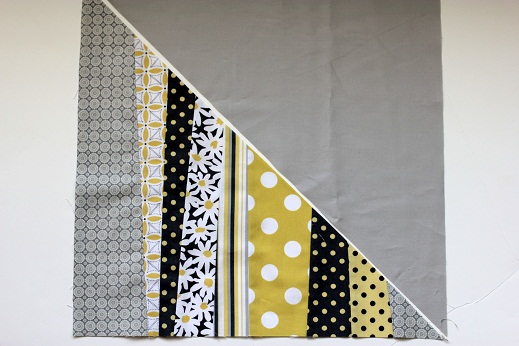 Then I cut the wonky squares in half triangles and matched them up with a plain gray on the other side.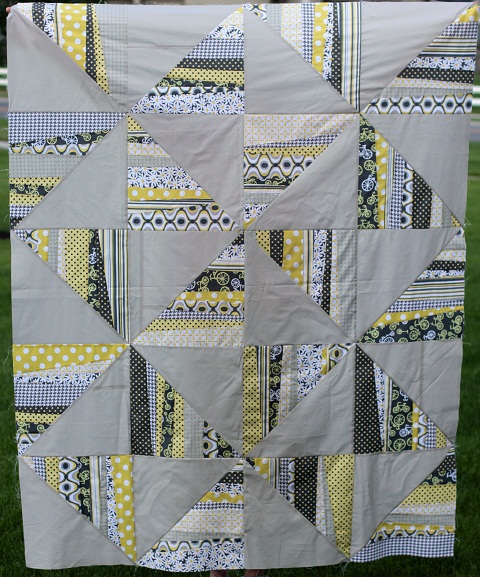 I experimented with lots of different arrangements with Electric Quilt software and loved this one best of all.
I love how bright and fun this collection is and also how gender neutral! Yellow and gray is perfect for boy or girl, and being a girly mom of 2.9 boys…I love it!
Michael Miller fabrics are always a pleasure to work with – they're thick, printed straight, always color fast, and so bright! The selection of prints and designs and colors are amazing and I can't wait to see what's coming next!
Block Party — The Modern Quilting Bee (C&T Publishing)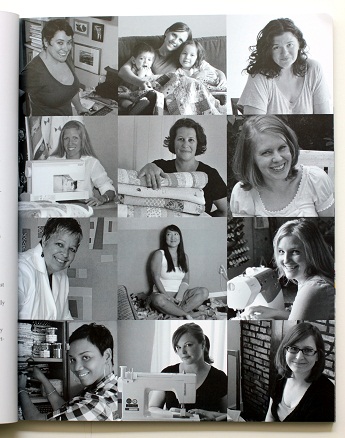 These are the 12 women behind this book and the Modern Quilting Bee. Each member of the bee was assigned a month to "host" and mailed the 11 other quilters fabric and basic instructions. The other quilters made up the blocks, sent them back, and the host assembled the quilt.
I love modern quilting, and I love the idea of achieving that look using the skills and creativity of 12 different people. Each project idea in this book is totally unique because it was created by so many hands.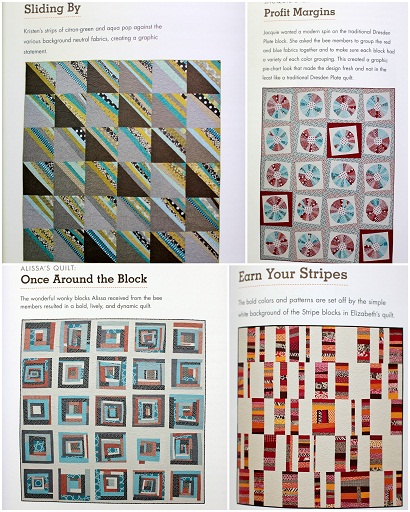 These are my four favorites from the book, and my most recent Half Crazy quilt was definitely partly inspired by the wonkiness of Once Around the Block and the layout of Sliding By. I love how each quilt is unified by the fabric but each block is totally unique in its construction.
The book gives instructions on how one person can make each quilt and at the end of each month section the host for that month and master creator of the quilt shares her ideas on the Quilting Bee – I loved reading about each artist and what quilting and the bee means to them.
The end of the book gives instructions on how to run your own quilting bee as well as information on modern color pairings, selecting fabric, cutting, layouts, quilt backs, machine quilting, and more.
This was a huge introduction to modern quilting for me, and I totally love it! I've been inspired by these women to let loose and create something wonky, non-traditional, and fabulous.
Thanks to Michael Miller Fabrics and C&T Publishing for sponsoring this giveaway!
GIVEAWAY RULES

Visit Michael Miller Fabrics
Make a comment on this post telling me your favorite quilting fabric collection before midnight Wednesday, September 7.
A winner will be selected and announced in a new post on Monday.

Only one comment per person unless you earn extra entries.
Giveaway open only to residents of the continental United States…sorry.
Winners must email me to claim their prize within 5 days.
EARN EXTRA ENTRIES
You may earn 1 extra entry each for doing the following (make a separate comment for each thing you do):
Blog about the contest or any of my posts with a link back to VanillaJoy.com
Follow C&T Publishing on Twitter and You Tube
Facebook about the contest with a link back here
Subscribe to my feed
Sign up for my newsletter
Comment on any non-contest post (must contribute to the conversation)
GOOD LUCK and THANKS!
{This product was provided to Vanilla Joy for review purposes.}