THE PRIZE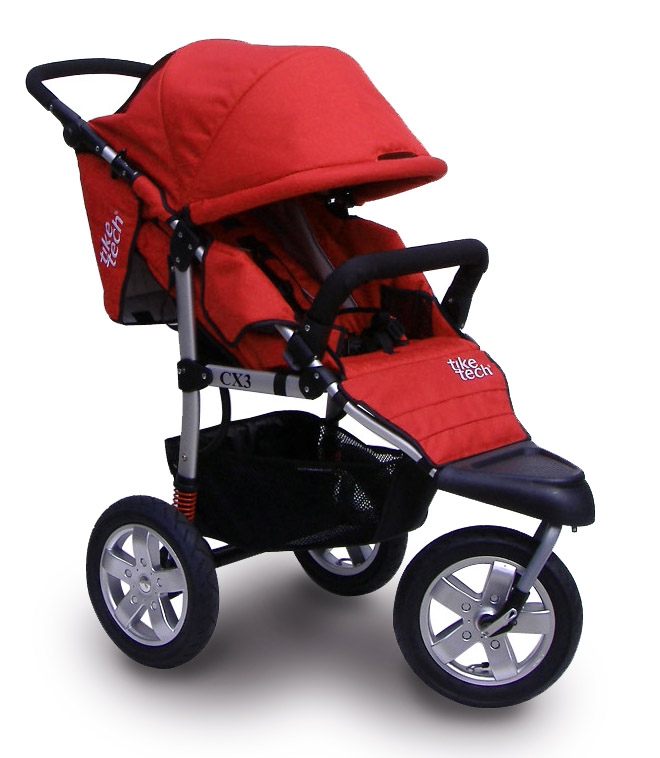 One VERY lucky Vanilla Joy reader will win this Single City X3 swivel stroller from Tike Tech!
MY REVIEW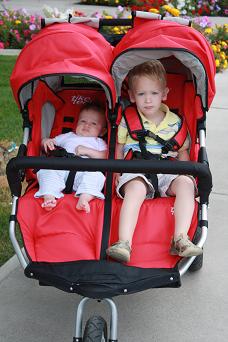 First of all, can I just say that having now owned both a regular and swivel/jogging stroller, I will never go back. If I EVER have to buy another stroller again, I will go with a swivel/jogging without question.
We got to try out the Tike Tech City X3 Twin Swivel Stroller, and we have used it every day since we got it. My boys love cruising around in it because it's comfortable, the ride is smooth, they're protected from the sun, and we can go fast!
Here are some reasons why we love the double Tike Tech!
1. The shocks are amazing. The sidewalks and streets in our neighborhood are bumpy and uneven, and with our old stroller it was like riding in a wagon on a dirt road. I was always jerking Elliot around when we hit the lip of a sidewalk and he would either get whiplash or a bruised tailbone. With the Tike Tech, I don't even notice the uneven and bumpy nature of the road. The stroller is sooo much easier to push – it just glides right over all those bumps.
2. It fits easily through doors. I was a little worried about this, it being double wide and all, but it fits perfectly through doorways. I know because since we got this stroller I have walked instead of driven to do some light shopping and we can get through the doors just fine.
3. The seats are fully adjustable anywhere from sitting straight up to fully reclining. Without this feature, I wouldn't be able to put Gus in the Tike Tech. His head is still a bit wobbly and he needs to be reclined to be comfortable and steady. Elliot likes to sit all the way up, although if he fell asleep on a walk I could easily and gently lay it back without waking him up.
4. The sun shades are fully adjustable. Fully extended, the sun shade comes out and down far enough to keep my little Gus completely shaded from the sun so I don't have to worry at all about him getting too hot or sunburned. Elliot doesn't like the sun shade all the way down, so we put it about halfway down to keep his head shaded but out of his face.
5. The two sides all adjust separately. I love that all the moving parts are separate on each side so I can customize them to each child.
6. It folds up easily. There are two little finger holds on either side of the stroller that you pull and the stroller folds itself in half. You can strap the rear axle and the handle together to keep it secure. The one downside about this stroller is the size and weight. It's big and kind of heavy. BUT. I couldn't have all the other options that I love without the bulk, so I'll take it. It's a pretty fair trade off.
7. There are pockets behind and underneath the seats so plenty of storage for all your gear.
8. The break is easy to engage and disengage. It's a bar that you push or pull on with your foot to lock into place. The break is essential for when you're putting kids in and out.
9. The front wheel can swivel or be locked into a stationary position. I love the swivel, I haven't yet used the double stroller without the swivel engaged, but it's nice to have the option.
10. Both boys have plenty of space, and the little wall between them is perfect amount of separation. They can still see each other but can't bother each other too much.
11. It's stable. Sometimes Elliot likes to get out and walk (which I try to prevent, but sometimes it happens anyway) and Gus wants to be held. If only one child is in the stroller, you can't really tell the difference. The weight is distributed evenly throughout and I can't tell a difference at all in how the stroller handles.
We all love our Tike Tech twin stroller – it has allowed us to actually go on walks together as a family and has made it much easier for me to take both boys by myself. We went to the park 1 time this whole summer before we got our double stroller, and have been probably 7 or 8 times in the last 2 weeks so I am exercising more and Elliot is able to get out his wiggles.
Here are some closeups of my favorite features:
1. Viewing windows. They are covered with a flap that you can roll and pin up to keep your eye on your passengers.
2. Behind seat pockets.
3. Rear break and CHECK OUT THOSE SHOCKS!
4. Seat incline control. Just pull or push on the black buckle to lower or raise the seat.
5. One finger folding lever.
6. 5 point harness
7. Swivel switch
8. Lap bar (great for hands or feet!)
Tike Tech strollers are high quality, user friendly, comfortable, and AWESOME with so many great features that can be customized to its passengers. I'm already looking forward to all the fun places we can walk together next summer!
Thanks, Tike Tech!
GIVEAWAY RULES

Visit TikeTech.com
Come back here and tell make a comment before midnight Thursday, September 17.
A winner will be selected and announced at the top of this post Friday.
Only one comment per person unless you earn extra entries.
Giveaway open only to residents of the continental United States…sorry.
Winners must email me to claim their prize within 5 days.
EARN EXTRA ENTRIES
You may earn up to 25 entries by blogging about this contest and including certain links – click here to read more about earning these entries.
You may earn 1 extra entry each for doing the following (make a separate comment for each thing you do):
Follow me on Twitter
Tweet about this contest with link back here (copy and paste http://www.vanillajoy.com right into the text box)
Subscribe to my feed
Sign up for my newsletter
Add my button to your sidebar
Comment on any non-contest post (must contribute to the conversation)
Facebook about the contest
GOOD LUCK and THANKS!