Blueberries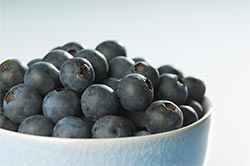 Blueberries are such a delicious snack and are so full of antioxidants and vitamins. They are in season from May to September, and most often the larger berries are cultivated and the smaller berries are wild.
Mature and ripe blueberries are dark blue in color with a natural, protective, waxy coating called a "silvery bloom." The best blueberries are plump, firm, uniform in shape, dry, and without stems.
Blackberries and Raspberries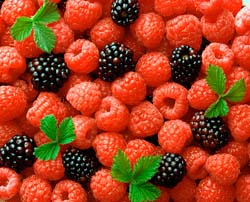 Blackberries and raspberries have the same signs of maturity and ripeness because they are very similar in their overall structure. Mature and ripe blackberries and raspberries should be bright and clean in appearance and uniform in their respective colors. The individual cells should be plump and tender without being mushy and should be free of stem caps.
Spoiled berries are easy to spot since they are leaky, mushy, and wilted looking.
Strawberries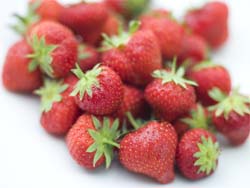 Strawberries are a summer fruit, best in May and June, but because of worldwide production are available before and after summer. Mature and ripe strawberries should be a full red color with a bright luster, firm flesh, and the cap stem still attached. Small to medium berries generally taste better than large ones.
Spoiled strawberries are also easy to spot. You usually get a few overripe ones in each carton at the store – they are mushy with brown spots and a very dull red color. The decay can spread quickly to the other berries, so separate overripe berries from mature and ripe ones as soon as possible.
[From Family Fare: For the People Who Matter Most, by Janet Stocks. Images from jupiterimages.com]