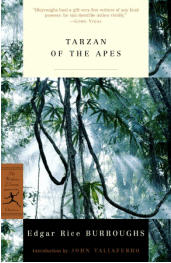 This week's book talk book is Tarzan of the Apes by Edgar Rice Burroughs. After reading this book, I would have to say that it is in my top ten favorites.
This book is absolutely wonderful. I was enraptured from the very first word. I have watched many different film versions of this story, but as usual the book is infinitely better. I love this book for the same reasons I loved McKinley's Outlaws of Sherwood, because the characters were familiar to me but the story was fresh and full and so much more elaborate than a movie could ever be.
For those who are not familiar, Tarzan of the Apes is a story about an infant who is raised by apes and grows up thinking he is one until he happens upon his own kind. The story follows Tarzan as he figures out what he is and who he wants to be.
The Tarzan series consists of 24 books. I will be reading the remaining 23 as soon as possible. I'll let you know how it goes…