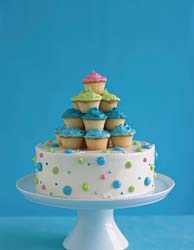 We're celebrating my son's 2nd birthday soon, and I'm looking for some fun and new birthday tradition ideas. We're just getting started with birthdays in our family, so I want to start some new traditions right away.
I love the idea of having a special birthday crown for the birthday child, so I think we'll do that. My little brother liked to designate a "birthday slave" for himself on his birthday…I think we'll do away with that tradition…
And I think I heard my cousin say that they take a picture of the birthday child in one of Dad's shirts so you can see their growth throughout the years. That's a fun idea!
Other traditions I am thinking about beginning are writing the child a letter, asking him questions about himself so we can remember what he was like at that age, measuring him, taking foot/handprints, etc.
What are your birthday traditions? I hope you have some good ones you'll share with me – thanks!
{photo from jupiterimages.com}