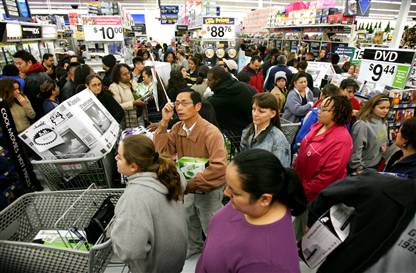 The day after Thanksgiving (AKA Black Friday) is probably one of my favorite days of the year. Call me crazy, but I love the adventure of running through a store alongside a billion other greedy people to get to the sheets first!Last year I was pregnant and had spent Wednesday in the hospital because of the flu/dehydration. Sick or not, I was standing outside of Target Friday morning at 5:30am. They opened the doors at 6 and everybody in front of us started running, so what choice did I have? My husband came with me and was disgusted at the sight. Needless to say, he walked. (He's going to stay home with the baby this year).
Target is one of my favorite places to go on Black Friday, and is likely the only place I will go this year. After the fact, I found out that many stores have their huge sale items online that you can purchase even before Friday morning! I'm going to shop online for any electronics items especially.
Speaking of electronics, my husband and I first went to Circuit City and didn't even get out of the car, the line was so long. The line was probably 4 people wide and stretched across the front of 5 or 6 other stores. It was shocking. We did stay to see what would happen when they opened the doors. People were cutting in the front of the line and ducking into the store while the people already waiting in line were yelling and screaming their heads off. I wouldn't be surprised if there was a riot after we left….
SOooo, VanillaJoy has a few tips for Black Friday 2007.
1. Shop online, especially for electronics and office type items. I know at least Staples and Circuit City have online sales even before Friday morning.
2. If an item is gone by the time you wrestle your way to the shelf, ask for a rain check. I know that Target gives rain checks for movies and while I'm not sure about other items, it doesn't hurt to ask!
3. Check this Black Friday website ( bfads.net ) for shopping ads. We don't get ads for all the stores, so I always look on this website to make sure I know what's going on.
Good luck and HAPPY SHOPPING!
[picture from www.msnbc.msn.com/id/15852845/]