Okay, this is it for our Etsy giveaways. Next week is the big finale and we'll have prizes from Shade Clothing, Creative Labs, and Spanx so you won't want to miss out on that. On to today's prizes!
1. $35 Gift Certificate at Christine Kangas Jewelry Design
More beautiful jewelry, but this stuff is unique and original in its own way (just like all our other jewelry artists…amazing women!) Christine's jewelry is refined and whimsical at the same time. She uses lots of glass and wood in her pieces, and mixes metal with beads, wire with fabric. She uses basic materials in very creative ways – you'll have to take a look at her shop to see what I'm talking about. It's wonderful!
I don't know if you can tell from these pictures, but these jewelry pieces are made with fabric. All her jewelry is beautiful, but her fabric covered stuff is totally fresh and fun. Her designs range from classy to zany, and I love how she incorporates textiles into her pieces. I've never seen this before, so I'm totally impressed. I can't put all my favorites here, you'll just have to check out her store.
Best of all, Christine Kangas Jewelry Design is offering a 20% discount to Vanilla Joy readers, so find something you like and get it on sale. Thanks, Christine!
2. Shopping List Notepad from Jot it Down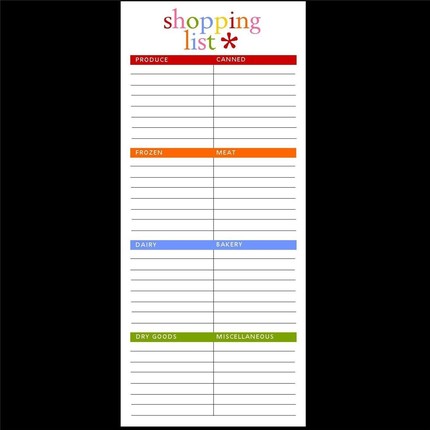 Lately I have been spending waaay too long at the grocery store because I'm not very strategic about my list making. I go through the recipes I'll be using during the week and write down things we need as I go. This means I end up with cream cheese right above pasta and below toothpaste (not for dinner, for the bathroom…). I wander around the store and almost always forget something. It's so frustrating!
So when I saw the adorable Original Shopping List notepad by Jot it Down, I knew it could really help me out. I know I could make a list like this on my own, but it would definitely not be so cute and colorful. Besides, I love any product that increases my organization! With a son who does not like to shop, saving time is key, and this list will definitely help me get in and out much faster.
This is my favorite product from Jot it Down and is the prize for this giveaway, but she has other great list making helps as well like a menu planning chart, party menu, packing list for travel, and babysitter checklist. These would make great Christmas gifts for all your sisters and sisters-in-law. For $6-9 dollars each, you can afford to get one for everyone!
Thanks, Jot it Down!
___________________________________________________________
Blog Giveaway Guidelines:
To enter this contest, leave a comment on this post between now and midnight PST on Saturday, October 25th, and include your favorite item from these sellers.
You can earn additional entries for this contest. To learn how, click here.
One comment per person – if you're new here your comment will go into moderation and will not show up immediately, but I will approve it so don't worry.
This giveaway is only open to residents of the continental United States…sorry.
The winner will be randomly picked and announced in a new post on Monday morning.
If you have a product you would like Vanilla Joy to review and give away, email me at kelsey [at] vanillajoy [dot] com. Thanks!