We usually have dinner together for our monthly family birthday parties, and this month's theme was soup. We had 3 delicious soups, but I only have recipes for 2 of them, so here they are.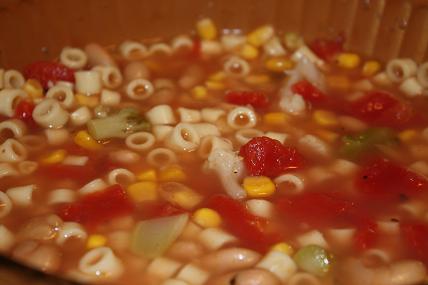 Easy Minestrone
Serves 4 to 6
* 6 cups low-sodium chicken broth
* 1 (15.5-ounce) can cannellini beans, drained and rinsed
* 1 (28-ounce) can diced tomatoes
* 2 tablespoons extra-virgin olive oil, plus extra for serving
* 2 onions, chopped fine
* 4 garlic cloves, minced
* 1/2 cup pasta, dry (see above)
* 1 (16-ounce) bag frozen vegetables (see above)
* 1/4 cup minced fresh basil leaves
* Table salt and ground black pepper
1. Bring broth, beans, and tomatoes to boil in large saucepan.
2. Meanwhile, heat oil in Dutch oven over medium-high heat until shimmering. Add onions and cook until softened, about 5 minutes. Add garlic and cook until fragrant, about 30 seconds. Stir in broth mixture and pasta and simmer until pasta is tender, about 10 minutes.
3. Stir in vegetables and basil and cook until heated through, about 2 minutes. Season with salt and pepper. Serve with additional olive oil for drizzling.
We've had this soup twice in two weeks, we love it so much. Yum.
We're having this next soup for dinner tonight, so I'll post a picture later today. Check back to see how yummy it looks! I think I like it even more than the Minestrone, and that's really saying something.
Wild Rice Soup
1/4 c. butter
1 med. onion, chopped
1/4 c. flour
3 c. chicken broth ( I used boullion)
1 c. cooked wild rice
1 c. cooked white rice
1 c. diced ham
1/2 c. finely shredded carrots
3 T. sliced almonds
1/2 t. salt
Pepper to taste
1 pint half and half
Saute onion in butter. Blend in flour and cook for 5 minutes. Stir in broth and cook to a simmer, stirring. Add ham, rice, carrots, almonds, salt and pepper. Simmer for 10 min. Add half and half. Heat to serving temperature.
Now you have 2 delicious new recipes for this winter. Enjoy!