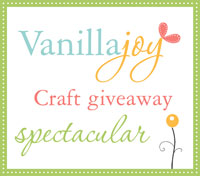 There are two contests today, so be sure to enter both. Monday's contest is over, but the rest are still going, so enter them and good luck!
This contest is special because these products are digital rather than traditional scrapbooking products. Digital scrapbooking has gotten better and better with the help of great products like the ones today's winner will take home. Here's what one of Friday's winners will get: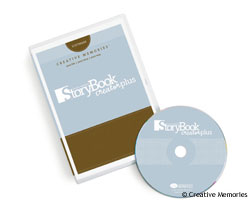 1. StoryBook Creator Plus Digital Scrapbooking Software by Creative Memories
I like all the paper and traditional stuff, but digital scrapbooking is sounding more and more appealing for at least some of my scrapbooking. Scrapbooking can be an overwhelming and never ending project, and I'm going to start trying to incorporate digital pages in with my traditional ones.
This software is awesome for either the seasoned or rookie digital scrapbooker. It's easy to use and understand with enough options to change things up without being overwhelming. So here is a treat for you who have already digitized and for those who are getting ready to make the change. You can visit Creative Memories' website to see all the tips and tricks of this software.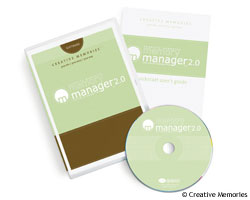 2. Memory Manager 2.0 Software by Creative Memories
I love this software. Before Memory Manager, I uploaded all my pictures into Picasa and there they stayed, organized according to the upload date. I still use Picasa, but I also use the Memory Manager program because I can organize my photos however I want, and each photo can be in 5 different place if that's what I want.
I can organize my pictures according to holiday, family relationship, date, location – anything! This has made it so much easier for me to visualize how I'm going to scrapbook my pictures. I can move all the pictures I eventually want to print into one folder, so when Snapfish has their 8 cent prints sale, I don't have to try and figure it all out right then. I have stopped printing pictures that I'm not actually going to use, so this software also saves me a little bit of money and sanity.
It's easy to use and so helpful!
3. A Gorillapod Go-Go by Joby.
Today's final prize is going to help you get those pictures taken so you actually have something to scrapbook! The Gorillapods are these little flexible tripods that you can use for any type of camera. The Go-go is unique because you can use it for more than just a camera like the picture shows. You can prop up your cell phone or GPS in the car or anywhere! It's a mobile entertainment kit that lets you prop up or attach your hand held gadgets anywhere you want. Your kids are going to love this product. It has lot of cool features that you'll just have to check out their website to see.
Thanks Creative Memories and Gorillapod!
___________________________________________________________
Blog Giveaway Guidelines:
To enter this contest, leave a comment on this post between now and midnight PST on Wednesday, September 3rd. You can earn additional entries for this contest. To learn how, click here.
One comment per person, and you must include your name.
This giveaway is only open to residents of the continental United States…sorry.
The winner will be randomly picked and announced in a new post on Thursday morning.
If you have a product you would like Vanilla Joy to review and give away, email me at kelsey [at] vanillajoy [dot] com. Thanks!