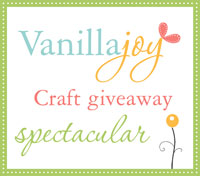 Our last day of prizes. Well, sort of. The Original Scrapbox giveaway will be starting soon, and there will be more great giveaways happening all the time. Thank you all so much for your excitement and participation and help in spreading the word.
The Cricut contest has ended, but you can still enter to win all the other contests. Some of these last contests are running longer because of the holiday Monday – I didn't want to disadvantage those who will be vacationing with their families. That's what this whole blog is about you know – families (and motherhood and womanhood). I know I get distracted with all this giveaway fun, but my main purpose here is to provide a meeting place where we can talk about and share ideas that will help us in our families. I happen to think that my crafting/creativity helps my family because it enriches me as a person and I think children need to see their mothers enjoying themselves and doing things they love to do. Moderation in all things, but we are women too and we have to balance our family's needs with our own.
So I will be back next week posting about craft ideas but also organization, parenting, fun activities for your kids, and much much more. I hope you'll all stick around and become life long members of the Vanilla Joy community and share your knowledge and experience with the rest of us. I would love to have some of you as guest bloggers, if you're interested. Email me. We'll talk.
Man, I really go off at the beginning of these posts, don't I? I'll get down to business now. Lucky winner #5 will get this fabulous collection of products: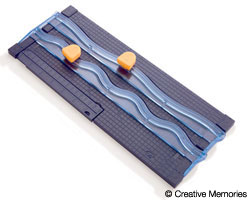 1. A Decorative Trimmer by Creative Memories
I wrote a little post a while back about this little jewel – I can't think of an easier way to spruce up a page than with some wavy edges. The grid on the platform is really helpful – it's easy to make sure you're cutting straight, which is important. And I just think it's so smart that they included two different blades and patterns in the same paper cutter! Now that's efficiency, folks. I love it!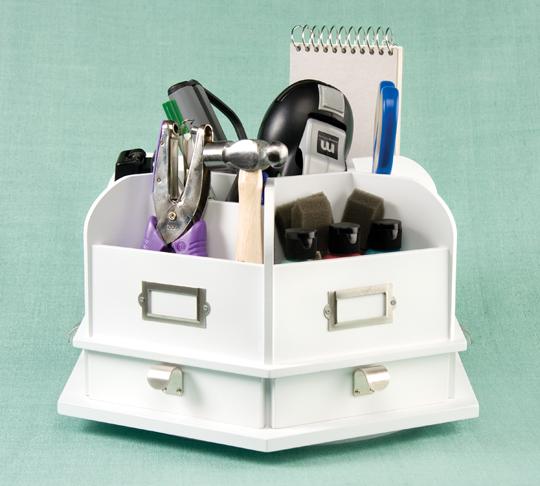 2. A Desktop Carousel by Making Memories
This is one of my absolute favorite organizational products, and I also wrote a little post about this that you can read for more of my drooling over it. Basically, it's big enough that all your tools are in the same place. No more hunting for a pencil and forgetting where you put your scissors and searching frantically for the glue. It's all in one place. And it turns (because it's a "carousel"). And there are drawers and slots enough for all your little gadgets. I have seriously saved a ton of time by having all my tools organized in this thing because I always know exactly where they are. It's great.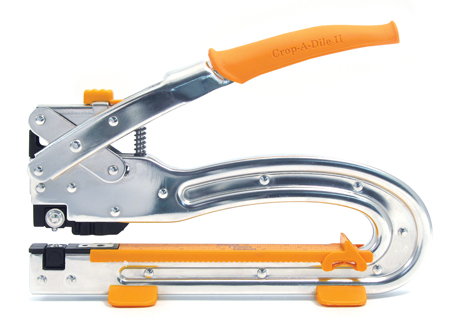 3. A Crop-a-Dile II Big Bite from Roberts Arts & Crafts
I don't know how I survived without this thing. I honestly don't. I almost didn't. When I was in college, I took bookbinding. I decided to make a crazy and complicated variation on a clamshell box with compartments and all sorts of extra things, including snaps. I nearly threw that whole box out the window into the snowy abyss below. I needed 4 snaps, and I used about 10 trying to get them on right. The little tool that comes with the snaps wasn't working right and I nearly had a nervous breakdown. Cause I had a deadline coming up, and I had to finish, like right now! Eventually I had to leave the room and let my husband do it for me.
The point is, had I had the Crop-a-Dile Big Bite, I would have done the 4 snaps in 5 minutes and could have spent the rest of my evening drinking hot chocolate in a hot bubble bath (cause I was pregnant at the time and that's probably all I really wanted to do).
This tool is incredible. It punches holes (no big deal, right?). But it punches holes in 3 different sizes. And it also sets snaps, eyelets, and grommlets. One tool. For all of those things! It has a 6 inch punching and setting depth so you can put it pretty much anywhere on a 12×12 piece of paper. You can use it on fabric, leather, paper, plastic, thin tin, and chipboard, so there really are no limits to what you can do. I think this tool should get the craft MVP award. And I love the name – I love the whole play on words thing.
You can go look (and touch and feel) this toy tool at Roberts Arts & Crafts, my favorite craft store – I love the 40% off any one item every day thing. I'm a sale girl, so Roberts and I get along great. And they have everything craft related. It's perfect, really.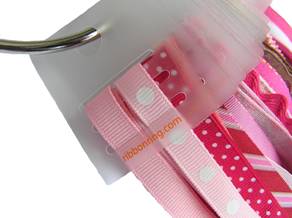 4. A Ribbon Ring by Ribbon Ring.
I've run into many different ribbon storage solutions in my quest to find the best craft products on the market for this giveaway. The Ribbon Ring is another excellent solution for storing ribbon in your own craft room. It just makes so much sense. You pull off short lengths of ribbon (a few yards at a time) and thread it through the tags. You can see all the pretty ribbon you have, which makes you feel very girly and inspires all kinds of creativity. You can match different colors and patterns together quickly and easily, and you can wave the whole thing around while prancing around the living room, just like you've always wanted to do. These are very affordable ($10 each) so if you have lots of ribbon you can get one for each color. The Ribbon Ring is one of those things that just makes sense and makes crafting easier and more fun.
5. And finally, the All Fall: 8×8 Album and an All Fall: 8×8 Paper Pad by Fancy Pants Designs.
Isn't 8×8 such a great size? I love these medium sized albums for theme or baby books, and this album is a beautiful color and texture. Fancy Pants Designs has so many cute things on their website, you'll have to go look. You'll also get an 8×8 paper pad to help you get started on that album. The designs are bright and fun – paper just makes me happy. It's the same effect as fabric for me. I like to look at it, touch it, and have it. I am dreaming of a very adorable album, made with all things Fancy Pants. I'll share pictures when I'm finished.
So that's it! That's the pile for one lucky person who will win all of this great stuff. Thank you so much to Creative Memories, Making Memories, Roberts Arts & Crafts, Ribbon Ring, and Fancy Pants Designs. You've been wonderful to us.
And this giveaway concludes the "Giveaway Spectacular." (There are 2 contests starting today, so scroll down.) I hope you've had as much fun as I have! We will be having more giveaways coming up very soon, so sign up for my RSS Feed to be notified. You wouldn't want to miss out – that would be a very sad thing, especially since the next giveaway will be the MiniBox craft storage furniture piece from The Original Scrapbox. And that other little prize that is hush-hush for now, but will blow your mind for good!
Thanks for sharing this fun with me! Have a wonderful Labor Day holiday, and I'll see you next week!
___________________________________________________________
Blog Giveaway Guidelines:
To enter this contest, leave a comment on this post between now and midnight PST on Wednesday, September 3rd. You can earn additional entries for this contest. To learn how, click here.
One comment per person, and you must include your name.
This giveaway is only open to residents of the continental United States…sorry.
The winner will be randomly picked and announced in a new post on Thursday morning.
If you have a product you would like Vanilla Joy to review and give away, email me at kelsey [at] vanillajoy [dot] com. Thanks!