This is our last week of independent artist giveaways. It's been fun seeing all the beautiful and creative stuff hasn't it? Today should be no exception – well, Pillsbury isn't really an Etsy artist, but that prize should be fun to win anyway! Two lucky winners will each win one of the following prizes.
1. Silver Lotus Hoop Necklace by Lillyella: Uniquely You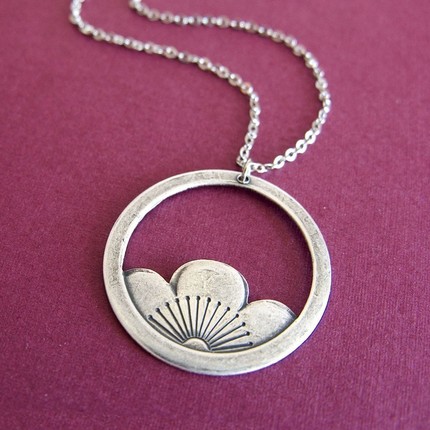 This is the necklace the winner will win by Lillyella. Isn't it beautiful? Many of our jewelry sponsors have been artists who create very organic jewelry, which I love. The lotus pendant on this necklace measures 1.25″ across and comes on a chain either 16″, 17″, or 18″ long. It is so feminine and unique, just beautiful! And it's also available in brass, so you have lots of choices with this one.
These are three of my favorite pieces besides the lotus hoop necklace. Now you can see what I mean by organic, right? Her designs are just beautiful – completely original and each piece seems to have its own inspiration from something different in nature. Her names are beautiful as well – the left is called Brass Garden Branch, then Little Garden Earrings, and finally Into the Blue. I love how she uses beads mixed with brass, especially the branch and butterfly pieces. What an amazing artist!
If you like these designs, check out her store where you can find many more organic and beautiful jewelry pieces. She's offering 10% off for Vanilla Joy readers – just mention the blog post in the checkout notes and the discount will be refunded to you. Thanks Lillyella!
2. Pillsbury Savorings Product Vouchers and Gift Bag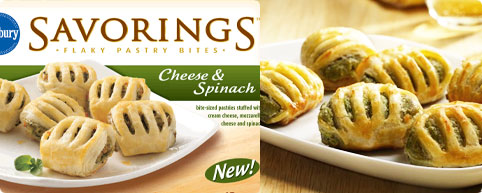 This contest will have three winners – two winners will receive two product vouchers for this new Pillsbury product called Savorings and a third winner will get a set of napkin rings and coasters (unfortunately, I do not have a picture, but I promise they're great!).
This new product by Pillsbury is delicious and easy. The flaky outer bread covers your choice of cheese and spinach, mozzarella pepperoni, or buffalo style chicken fillings. In less than 20 minutes, you have a yummy snack or side that the whole family will love.
My favorite flavor is the cheese and spinach, but the other two are delicious also. I was lucky enough to get my fair share – my husband would have eaten them all if given the chance!
If you'd like to try the Savorings, you can find them at most major grocery stores. Thanks, Pillsbury!
___________________________________________________________
Blog Giveaway Guidelines:
To enter this contest, leave a comment on this post between now and midnight PST on Wednesday, October 22th, and include your favorite item from Lillyella.
You can earn additional entries for this contest. To learn how, click here.
One comment per person – if you're new here your comment will go into moderation and will not show up immediately, but I will approve it so don't worry.
This giveaway is only open to residents of the continental United States…sorry.
The winner will be randomly picked and announced in a new post on Thursday morning.
If you have a product you would like Vanilla Joy to review and give away, email me at kelsey [at] vanillajoy [dot] com. Thanks!