Our two winners for this giveaway are as follows:
Lulubug Jewelry – Elizabeth who said, "I love that oak tree necklace… all her jewelry is amazing. To think it's made out of clay! It really looks like sterling. The beanies are cute too, especially the visor ones. I can see wearing one!"
Noggins Beanies – Maleen Cazier who said, "I love these beanies. I have had my eye on the visor ones for awhile. I especially like the flower ones for my girls. The jewelry is very nice as well. Thanks for the chance to win!"
Email me at kelsey[at]vanillajoy[dot]com and I'll put you in contact with the sponsor. Thanks for participating everyone!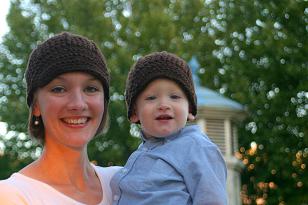 Oh, and in the giveaway post I forgot to show you our matching hats. Aren't they so cute? I'm thinking about ordering one for the Mr. so we can all match.