Day 4 brings more great stuff for one lucky winner – I'll get right to the prizes.
1. One pair of squeaky shoes and one other personalized item from Personality Plus Boutique.
Adrienne, from Personality Plus Boutique, is the sponsor of our first item. She introduced me to squeaky shoes, and I think they're brilliant! They have little sqeakers in the heel so you can hear your baby wherever she goes – this is a great security measure parents can take to avoid losing their kids in the store. Joel can get away from me so fast, but if I can hear him walking, I'll be able to find him quickly. The squeakers can be removed so the shoes can be worn in quiet places like the library or at church.
Personality Plus Boutique also sells personalized t-shirts, bath towels, baptism towels, hooded baby towels, bags, aprons, onesies, beanies, blankets, and burp cloths. She has lots of colors and styles to choose from, and her embroidery designs are sooo cute! Best of all, she's absolutely wonderful to work with – once you choose what you want, she draws up a few designs for you to preview to make sure everything looks just right.
Here is some of the stuff in her store – she has a page of embroidery designs and fonts you can choose from or you can come up with your own. She can do anything! Her embroidery and applique work is very well done – I have been so impressed with the quality and creativity of her product line.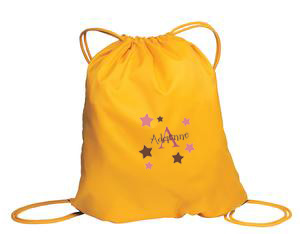 This little cinch pack would be perfect for a little girls' dance team, as little travel bags for your kids, or even just to keep kid's "treasures" in. Kids absolutely love to see their name on things, which is why I love Personality Plus Boutique so much. Kids love to feel ownership and membership, and having their name on things gives that to them. It's a very positive and exciting thing for a child! And it helps Mom to keep straight what belongs to who. This bag comes in 11 colors and has 6 different "all around" designs to choose from.
And here is some stuff she did up for me…well, Joel, actually. I love it!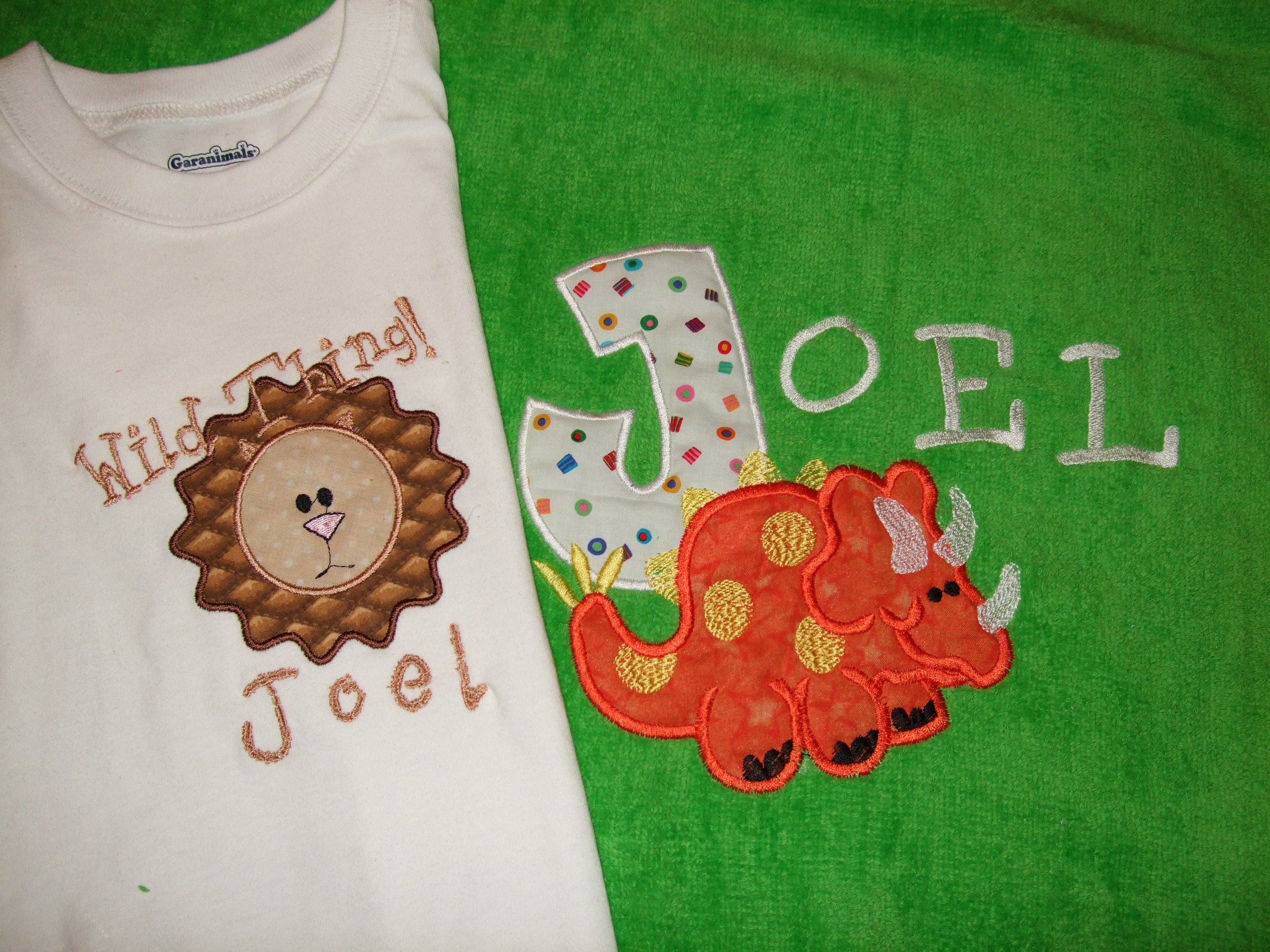 On the left is a personalized t-shirt that is sooo adorable! And my very favorite thing is the personalized bath towel she did up for him on the right. I told her generally what I wanted and this is what she came up with! I had planned on our kids having bath towels in their assigned colors, and this is just the icing on the cake. I will be ordering bath towels like this for all of my children, and I can't wait! Our bathroom is going to be so colorful and personalized! She's a true artist and is very talented and good at what she does.
The winner of this giveaway is going to have a tough time deciding what to order from her shop. Good luck!  And if you don't win but still want to buy something from her, she's offering a 10% discount on everything in her store to Vanilla Joy readers.  Thanks Adrienne!
2. One Diaps and Wipes Case, one appliqued onesie, one tag-a-long blanket from Fingers & Toes: Modern Baby Designs.
Today's winner will also receive three items from Fingers & Toes: Modern Baby Designs. Can you see how cute her stuff is???
Her diaps & wipes case is great to take on its own, in a diaper bag, or thrown in your purse. No one will ever guess that sassy little clutch you have is really hiding diapers and wipes. My make-shift diapers and wipes case right now is a plastic pouch that our car seat cover straps came in – BORING! I really needed one of these in a super girly design.
The fabric is that nice quality stuff, 100% thick and soft cotton – I really love cotton. It's one of the things I could never live without.
The D&W case can hold a travel sized wipe container and several diapers, and it measures 7.5 w x 13.5 h (when open) so it will fit big baby and toddler diapers too! And a little velcro piece keeps everything tucked in nice and tight so you don't lose anything! Because it's washable, after baby is potty trained, you could use the case to carry lots of other stuff like snacks, books, toys, etc. You can use it forever!
The winner will also get an appliqued onesie in one of 5 designs – isn't the tie fabulous? Perfect for church. This winner is going to have some difficult choices ahead of her! The appliques are fused and then machine stitched to the onesie, and fused again on the backside for increased durability. They come in a variety of sizes and colors, so check out her store!
Finally, you'll get a tag-a-long blanket. This little blankie is perfect for infants and toddlers (and mommies – you would definitely see me cuddling up to that oh-so-soft minky fabric – I'd love a giant blanket made out of that stuff, just for me.) So one side has the velvet soft minky fabric and the other side will be some modern and beautiful high quality fabric. The fun part for the babies, besides the minkiness, are the little ribbon tabs that stick out everywhere along the sides. As soon as a baby knows she has hands, those little ribbons will be the most interesting and entertaining thing in the world.
Fingers & Toes has some other great stuff in her store like custom crib bedding, bibs and burp cloths, and hooded towels. I don't know where she finds such beautiful fabric, but I need to find out.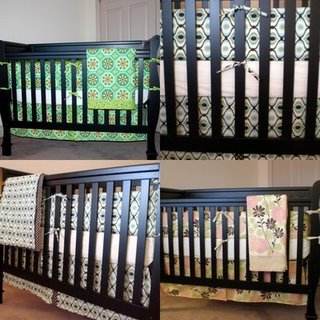 Her custom crib bedding comes with 1 reversible bumper, 1 pleated split corner skirt, 1 fitted sheet, and 1 baby blanket, all in the most gorgeous fabrics, and it looks like she just got new stuff in! Can you tell I love fabric? I would really love to get my hands on one of these sets…
Thanks Personality Plus Boutique and Fingers & Toes!
_________________________________________________________
Blog Giveaway Guidelines:
1. You have 6 days to enter this blog giveaway, until midnight PST on Tuesday, July 8th.
2. You must make a single comment on this post to enter. To learn how to earn additional entries for each contest, click here.
3. Anonymous comments will be ignored/removed.
4. One entry per person via commenting, please.
5. The winner will be randomly picked and announced in a new post on Wednesday morning.
If you have a product you would like Vanilla Joy to review and giveaway, email me at kelsey [at] vanillajoy [dot] com. Thanks!