It's day 3 of giveaway week and we're still going strong. We have three more fantastic products for one lucky winner!
Don't forget to blog about my giveaways to earn extra entries (see "Blog Giveaway Guidelines" at the bottom of the post for more information about earning additional entries) and don't forget that we will be giving stuff away through Monday of next week. And the stuff just keeps getting better and better (if that's even possible) so you don't want to miss out.
Here's what today's contest winner will get: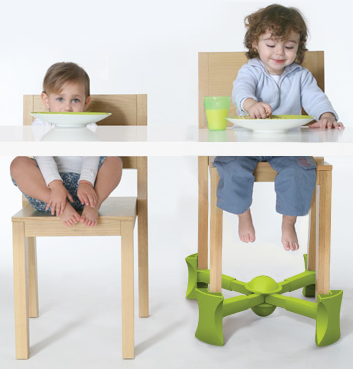 1. A Kaboost. I L-O-V-E this product – it's brilliant! And it is packaged so cleverly that I enjoyed taking it out of the box just as much as I enjoyed putting it on the chair and using it!
A Kaboost is a booster chair that raises the height of a regular kitchen/dining room chairs so that a child can sit at the table like a big kid! They have a little demo video over at kaboost.com that explains how you use it, so be sure to visit and watch.
Here are a few of my favorite things about the product:
It hold up to 300 pounds – I just got a tall work table for my craft room, so I will be using the Kaboost myself until I get chair that is tall enough.
It stays attached when the chair is moved, so it's safe, stable, and hassle-free.
It's small and easy to transport and therefore easy to take to Mom's for dinner or to a restaurant.
It's pretty.
It has rubberized feet so it doesn't slip or scratch your floors.
It has two height positions – you switch from one height to another simply by flipping the thing over.
The Kaboost doesn't take up any extra room in the kitchen, and it comes in 4 colors. I personally prefer the bright green. You can buy these at Target, Babies'R'Us, and Wal-Mart, so if you don't win, you know where to get yours. And I recommend you do. Get yours. It will become your new favorite thing too.
2. An Accordion scrapbook handmade by Nycole's Scrapbooks. These are just two of her adorable designs, but she has tons more, and the winner will get to choose her favorite! It won't be easy to do, so good luck. The accordion scrapbook measures 4.25 x 5.5 and has 14 pages for displaying photos.
Nycole makes all kinds of unique scrapbooks, photo books, and custom albums. She puts everything together so beautifully, I love her color combinations and clever ideas, and she does custom orders. She reuses things like paper bags and Altoid tins – check out her store to see all her imaginative creations.
| | | |
| --- | --- | --- |
| | | |
| Paper Bag Album | Gift Tags | Ring Bound Scrapbook |
| | | |
Here's just a sample of what she has in her store – there's so much more!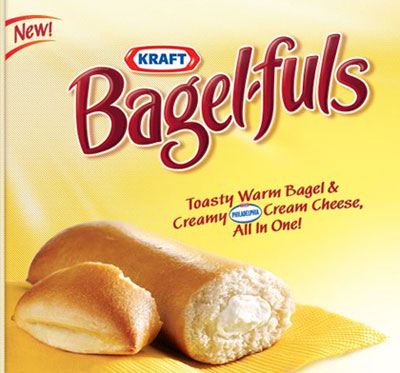 3. Another 2 boxes of Kraft bagel-fuls, winner's choice of flavors. Your child will love to sit on his Kaboost and eat his bagel-ful…if you're willing to share.
Thank you Kaboost, Nycole's Scrapbooks, and Kraft!!!
_________________________________________________________
Blog Giveaway Guidelines:
You have 6 days to enter this blog giveaway, until midnight PST on Monday, July 7th.
You must make a single comment on this post to enter. To learn how to earn additional entries for each contest, click here.
Anonymous comments will be ignored/removed.
One entry per person via commenting, please.
The winner will be randomly picked and announced in a new post on Tuesday morning.
If you have a product you would like Vanilla Joy to review and giveaway, email me at kelsey [at] vanillajoy [dot] com. Thanks!