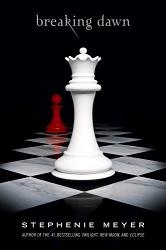 I know this book came out over a month ago, but I just barely got around to reading it. And the first half I wanted to kill. I am just really sick and tired of 1. Edward's "marble skin" and "golden eyes," and 2. hearing Bella's insecurities about her relationship with Edward! I don't get why he loves her but he does and he has shown that so many times, she should know by now and not be questioning every other page! In fact, I don't get why both Edward and Jacob are so into her – she's really nothing special, is she? If she is, Meyer didn't expound on her overwhelmingly loveable characteristics. I suppose I can understand Jacob's love for her since they really developed a relationship during the time Edward was gone, but mostly I thought their obsession with her was totally pathetic.
I also didn't like the silly made up name "Renesmee." Are you serious? I'm not a fan of the made up names and thought that was just RIDICULOUS. (I guess Meyer has a knack for choosing bad names…Wanda?) It also was strange to me how non-maternal Bella was.
A few more things that bugged – all the hot and heaviness. Come on!!! Newlyweds are unbearable, do we really need to read about it?!? There were a few too many bedroom scenes for my tastes. And I thought the whole Bella-turning-into-a-vampire thing was a little lame since she wasn't even really like a vampire. Finally, the ending was a bit anticlimactic. There was a whole lot of build up and nothing really at the end of it all.
However, lest you think I did not enjoy this book, I should stop my ranting and say that I did, overall, enjoy it. Meyer really does know how to write a suspenseful story that makes you want to keep reading into the wee hours of the night and neglect all other things during the day. I wanted to know what was going to happen, and although I thought the conflict was a anticlimactic, I liked the happy ending. I wanted everyone to end up happy, and they did. Of course it was unrealistic, but so are vampires and werewolves, aren't they? Besides, I don't read fiction to get more of reality. I read fiction because it's creative, inventive, and unrealistic.
Overall, Breaking Dawn was a good story. I don't know if I'll let my teenage daughter read it, but I have enjoyed reading Meyer's novels, and I will most likely read books that she publishes in the future. I'd love to hear what you thought of the book!